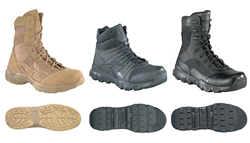 The whole week they were outstanding. We've tried a lot of brands and there's nothing that beats Reebok.
St. Louis, MO (PRWEB) December 09, 2014
Several models of a new line of tactical boots from Reebok were put through their paces at the recent SWAT Round-Up International, held in Orlando, FL, Nov. 9-14.
Warson Brands, official licensee of Reebok tactical footwear, was a gold sponsor at this year's SWAT Round-Up International, and sponsored three teams competing in the event. In its 32nd year, the SWAT Round-Up International attracted over 50 eight-man SWAT teams from around the world to compete in five events: Hostage Rescue, Pricher Scramble, Officer Rescue, Tower Scramble, and the Obstacle Course. These events are geared for simulation of real life scenarios and are intended to challenge the team as a unit in both weapons expertise and physical fitness.
Event teams chose the Dauntless and Dauntless Ultra-Light lightweight all-terrain boots; and the Hyper Velocity super-lightweight performance footwear for use in this year's event. Reebok also offers two other duty boots: Rapid Response RB, high-performance stealth boots, Fusion Max, made in USA with Total Cushioning Technology.
As a Gold sponsor, Reebok gained both visibility and respect for the brand at this event. "We had product at the event to try on," said Danielle Beckman, Reebok Tactical Events Coordinator, "as well as key Reebok Tactical personnel from product development, sales, and marketing to answer questions."
Three competing teams were wearing Reebok tactical boots throughout the competition: Alachua County Sheriff's Office, 2013 Best Overall Winner, competed wearing Reebok Dauntless Ultra Light 5-inch hikers with side zip; Marion County Sheriff's Office, 2013 Second Place winner, wore Reebok Dauntless 8-inch seamless tactical boots with side zip; and SE Missouri Tactical Team, chose Reebok Hyper Velocity desert tan 8-inch boots. "Each team was allowed to choose the Reebok tactical boot that they preferred," said Danielle Beckmann, "and each chose a different style."
Dan Trammell, whose Marion County SWAT team finished 3rd overall at the event, said the team really put their Reebok Dauntless boots to the test. "My favorite aspect of the boot is its light weight," he said, "and sole is constructed of a very flexible material that makes it easy to traverse obstacles and maneuver through these events."
Barrett Boyette, with 4th place finisher Alachua County Sheriff's Office, claims his Reebok Dauntless Ultra Light 5-inch boots were the lightest and most comfortable he's ever worn. "We wore 'em all week," he said. "No comfort issues at all. You didn't feel your feet were beat with a hammer at the end of the week."
Chief Eric Hovis of the Southeast Missouri Tactical Team said their Reebok Hyper Velocity 8-inch boots performed very well. "The grip was phenomenal. On the course throughout the whole week, every obstacle that we ran – whether it was a wooden or metal barrier, or we were running on grass, or even if we were repelling – it didn't matter. The whole week they were outstanding. We've tried a lot of brands and there's nothing that beats Reebok."
Reebok tactical boots are available online and at stores serving military and law enforcement personnel.
**************
Warson Brands, also known as Warson Group, Inc., is headquartered in St. Louis, MO. Warson Brands is a global manufacturer and marketer of military, tactical, and industrial safety footwear since 1989, and provides a variety of work and duty footwear under the world's finest brand names, Reebok, Rockport Works, Florsheim, Iron Age, Grabbers, and Knapp.
Warson Brands is best known for innovation in the areas of foot protection and comfort. Its innovative comfort technology provides superior cushioning and impact protection in long wearing protective footwear that is both light weight and flexible. Warson Brands innovations in the area of foot protection include developing 100% non-metallic protective toe caps made from composite material that is stronger and lighter than steel, and also will not conduct heat, cold, or electricity. Innovations also include protective arch, heel, and metatarsal guards; outsoles that resist chemicals, abrasion, slick surfaces, and extreme heat; and patented devices to protect workers and equipment from static discharge. For more information, visit http://www.warsonbrands.com.
About Reebok
Reebok International Ltd., headquartered in Canton, MA, USA, is a leading worldwide designer, marketer and distributor of fitness and lifestyle footwear, apparel and equipment. An American-inspired global brand, Reebok is a pioneer in the sporting goods industry with a rich and storied heritage in running, training and fitness. Reebok is committed to helping consumers fulfill their potential and be "fit for life." Reebok develops products, technologies and programming which enable consumers to live a healthy lifestyle and have fun doing it. Reebok connects with the fitness consumer wherever they are and however they choose to stay fit – whether it's training, running, walking, dance, yoga or aerobics. Reebok Classics leverages the brand's fitness heritage and represents the roots of the brand in the sports lifestyle market. A subsidiary of the adidas Group, Reebok operates under the multiple divisions of the Reebok brand, Reebok-CCM Hockey and the Sports Licensed Division. Reebok is the exclusive outfitter of CrossFit and the Reebok CrossFit Games, the official title sponsor of the Reebok Spartan Race, and exclusive apparel provider for Les Mills.
Or, discover Reebok at the following locations:
http://facebook.com/reebok
http://twitter.com/reebok
http://youtube.com/reebok
[http://news.reebok.com/