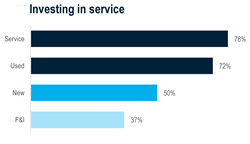 The results of the survey find that 76% of respondents expect sales to increase across finance and insurance, new, used and service businesses. -Rick Parmelee, PartnerBlumShapiro
West Hartford, Connecticut (PRWEB) December 17, 2014
Automotive dealership confidence remains at a high level, and customers are continuing to buy and lease new cars, according to a recent survey of the auto dealer industry in which BlumShapiro participated. The survey was driven by Baker Tilly International, one of the world's leading networks of independent accounting and business advisory firms, of which BlumShapiro is an independent member.
The results of the survey find that 76% of respondents expect sales to increase across finance and insurance, new, used and service businesses. Rick Parmelee, a BlumShapiro partner who specializes in automotive dealerships, said this survey shows a continuing trend of improvements in the industry over the past few years.
"The availability of relatively inexpensive sources of financing and attractive leasing options are providing a boost to automotive sales. Most dealers believe the service business is a way to lure customers back into their stores. There are so many prospective touches to a new car customer today. Social media and data mining provide dealers with a wealth of information on their customers, and many are using it to their advantage," Parmelee said. "This is a continuation of the good news we have seen for the industry over the past several years, and it is directionally consistent with what we hear from our clients as well."
The high-level analysis and commentary in the findings report will allow auto dealerships to compare their expectations on sales, growth, investments and expenditures over the next 12 months against others across the U.S. The survey covered 245 dealership points mostly concentrated in the midwest, northeast and southeast of the United States.
The full results of the survey can be found at auto.blumshapiro.com.
The following independent members of Baker Tilly International participated in this research project: Accuity, Baker Tilly (a trading name of Baker Tilly Virchow Krause), BlumShapiro, MBAF, Mountjoy Chilton Medley, RubinBrown and Wolrige Mahon.
BlumShapiro is the largest regional accounting, tax and business consulting firm based in New England, with offices in Connecticut, Massachusetts and Rhode Island. The firm, with nearly 400 professionals and staff, offers a diversity of services which includes auditing, accounting, tax and business advisory services. In addition, BlumShapiro provides a variety of specialized consulting services such as succession and estate planning, business technology services, employee benefit plan audits, litigation support and valuation, and financial staffing. The firm serves a wide range of privately held companies, government and non-profit organizations and provides
non-audit services for publicly traded companies.