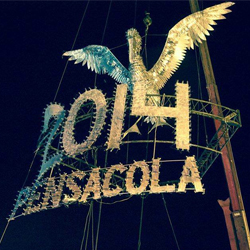 Pensacola, Florida (PRWEB) December 09, 2014
A super-sized street party with a steel Pelican, a "Polar Bear" plunge into the chilly Gulf Waters, champagne toasts, and fireworks over white sandy beaches are what visitors to the Gulf Coast will find when they celebrate New Year's in Pensacola.
Pensacola's signature event, the Pensacola Pelican Drop, ranked one of the "Top 20 Events in the Southeast," is a bustling family-friendly street party, featuring restaurants, vendors, refreshments, festive lights, and free music in downtown Pensacola on historic Palafox Street. It culminates with a citywide countdown at midnight similar to the famous countdown and ball drop in Times Square with a simple Southern twist: a glittery pelican drops from a sky-high perch amidst a dazzling fireworks display.
More than 50,00 people are expected to attend this year, and to accommodate the crowds, the event's footprint is expanding. This year's celebration will feature more street space, more children's activities, more performances and more live music.
Nationally known DJ Rob Nice is one of the featured performers on the Center Stage and will be spinning music long after midnight. Nice has been a "Good Morning America" guest DJ and has toured the country with Nelly and Lil' Wayne. New Orleans high-energy Motown dance band Rewind is the featured musical performance on the Main Stage this year.
A new centerpiece will be a 100-foot Ferris wheel at the intersection of Garden and Palafox Streets, and a parade at 6:30 p.m. will lead party-goers to the Palafox Street Main Stage for family-friendly entertainment and the children's New Year's tradition of stomping on bubbles and popping confetti at 8:00 p.m. The Pelican rises at that same time, and an adult size party kicks into full gear.
For a detailed scheduled of entertainment and events at the Pelican Drop as well as a live countdown to the New Year, please visit: http://www.pensacolapelicandrop.com.
For those visitors looking for a New Year's Eve Beach experience, Pensacola Beach's New Year's events combine the beauty of the sand, blue waters, and traditional fireworks displays at two different times this year. Pensacola Beach will present fireworks at 8:00 p.m. at the Portofino Boardwalk, a central strip on the sound side of the beach filled with specialty shops and quaint restaurants. Those wanting to ring in the New Year sitting on the beach and staying up a bit later can watch the fireworks display at the Gulf Pier at midnight.
No trip to Northwest Florida for New Years would be complete without participating in one of the two events that have become a famous tradition and unique way to "wash away" the past year. Wearing costumes, bathing suits, or just regular clothing, hundreds will walk, dip, run, or swim into the Gulf waters during the "Polar Bear Plunge" on New Year's Day. Pensacola's Beach's Polar Bear plunge takes place at 2:00 p.m. at Paradise Bar and Grill. For more information, please visit [http://pensacolabeachchamber.com/Events/SeasonYourHolidays.aspx.
Similar to the Polar Bear Plunge, Perdido Key's "Polar Bear Dip" takes place at the famous Flora Bama Lounge on New Year's Day at 11:00 a.m. For a run-down of events during the dip, visit http://www.florabama.com/events/polar-bear-dip.
Both plunges reward those participating with traditional New Year's fixings like black-eyed peas and cornbread afterward.
Visitors anxious to participate in the fun and entertainment that Pensacola provides will find plentiful hotel packages, discounts, and insider information on dinners and party packages by visiting http://www.visitpensacola.com/content/holidays-pensacola.
#
About Visit Pensacola
Visit Pensacola leads the effort of economic development through tourism in Escambia County. Comprised of over 200 member businesses, Visit Pensacola's mission is to position the Pensacola Bay Area as a premier year-round travel destination through tourism marketing, communications, meetings and conventions, reunions and group tour initiatives.
##