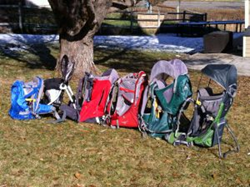 Comfort for both parent and baby combined with the ability to carry a days-worth of necessities were key in naming our top baby backpacks.
Cheyenne, Wyoming (PRWEB) December 19, 2014
Pediatrician Dr. Juliet Spurrier and her team at BabyGearLab have announced today the winner of their 2014 best baby backpack review. The team, while using the packs in both real-world and laboratory settings, employed critical side-by-side comparison to rate the packs against each other. Their criteria for evaluation included: parent comfort, storage, child comfort, ease-of-use and safety.
The winner is listed below:
Editors' Choice Award went to the Phil and Teds Escape. "The Escape stood out in overall comfort, for both parent and baby. This was a key metric in our testing as these packs are designed for extended periods of wear and we found it critical that all involved be as comfy as possible," said Dr. Spurrier. "This pack also had ample storage, including a removable "day pack", which was another highly coveted feature."
The testing of these backpacks included extensive hands-on examination in a variety of settings, the majority of which were out on the hiking trails of Western Colorado. First the packs were loaded with of course, a baby, and then with all the necessary gear for a day out in the wilderness with said baby. They were adjusted for fit, switched from parent to parent, used in all kids of weather conditions, loaded in and out of cars and trekked around town. Editors then rated the packs in an apples-to-apples comparison based on five distinct metrics.
BabyGearLab has also published a buying advice article entitled "How to Choose the Best Baby Backpack" which answers the question of "why" one might actually need a baby backpack as well as many of the key features to look for while navigating the buying process.
About BabyGearLab LLC
Under the leadership of Dr. Juliet Spurrier, a pediatrician and mother of two, BabyGearLab.com strives to publish some of the most detailed and comparative reviews of baby products online. Dr. Spurrier found this type of resource to be lacking while pregnant with her own two children, and thus designed this space to help other families through the often overwhelming world of selecting the right baby gear for their child.