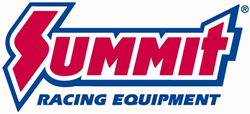 (PRWEB) December 11, 2014
Speedtech Performance USA makes some of the nicest suspension components and kits, motor mounts and transmission crossmembers, and other components for early Camaros, GM A-body cars, and more--perfect for building a Pro Touring style performance machine. Summit Racing carries a nice selection of Speedtech Performance components including:
Pro Touring Front Subframes for 1967-69 Camaro
These Pro Touring subframes are designed to be a bolt-in package. The steel subframe is laser-cut and welded on a dedicated jig. That precision means a better fit and much improved suspension performance. At just 125 pounds, the subframe weighs less than the factory part, too.
The Pro Touring subframes also feature:

Factory-alignment holes make it easier to align the frame to the body
Built-in Guldstrand modified suspension geometry
Tubular high-clearance upper control arms and tubular lower control arms
Viking double adjustable coil-over shocks—allows up to 2 .5 inches of ride height adjustment
Power rack and pinion steering unit with steering arms
Fully adjustable rear crossmember fits all GM transmissions as well as T-56 and TKO manuals
Heat-treated tubular 1.25 inch sway bar kit
Available in versions for small block Chevy and GM LS engines.
Rear Suspension Systems for 1964-72 GM A-Body
These suspension systems feature single-adjustable upper and lower control arms with Speedtech's Articulink technology which allows the arms to rotate laterally while the suspension travels through its full range of motion. This greatly reduces bind and maintains better suspension geometry. Speedtech also uses Delrin bushings that are much firmer than OEM rubber and don't squeak like urethane bushings do. The suspension systems also include Viking double adjustable coil-over shocks (with 361 different valving combinations!), a chassis-mount one inch diameter adjustable sway bar, Grade 8 hardware, and instructions.
AFX Front Spindles
The AFX front spindles are designed to correct many of the factory suspension issues found on GM musclecars. The spindles are taller than OE to increase camber and lower ride height approximately one inch. Relocated steering arm mounting points improve Ackerman and bring bump-steer numbers down to nearly zero. The disc brake mount is based on the C5/C6 Corvette design, allowing the use of factory or aftermarket Vette brakes to really improve stopping power.
Speedtech Performance built in a heavy duty Corvette ZR1 sealed bearing hub that is much stronger than factory and is also maintenance-free. The AFX hubs do not alter the factory track width or bolt pattern so standard style wheels can be used. The hubs are available for 1964-72 GM A-body, 1967-81 Camaro/Firebird, 1968-74 Nova, and 1978-88 GM G-body.
Adjustable Transmission T-56 Crossmembers for Camaro and Firebird
These crossmembers are designed for stuffing a Tremec T-56 six-speed transmission in any 1967-81 F-body. The crossmembers are fully adjustable fore and aft to accommodate most engine positions and T-56 variants. The smaller diameter tube provides additional clearance for large diameter exhaust systems, and can be removed from the vehicle without disturbing the chassis brackets. The crossmembers are designed for use with a urethane style transmission mount, sold separately.
See Speedtech Performance Products at Summit Racing
Summit Racing Equipment
http://www.SummitRacing.com
1-800-230-3030