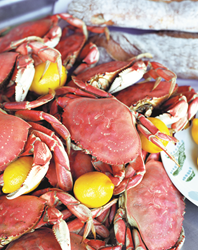 San Francisco, CA (PRWEB) December 09, 2014
Forget turkeys and hams. From November into the New Year, San Francisco is packed with a plethora of holiday treats — from fresh Dungeness crab and gingerbread houses to drinks to warm the body and soul. San Francisco Travel has lots of culinary suggestions in their holiday section at http://www.sanfrancisco.travel/holidays.
Here are a few ways you can get a taste of the holidays in San Francisco.
What to Eat:
Crab Season
Crab season runs from November through February, during which time fishing boats pull fresh catches from the Pacific and deliver them to Fisherman's Wharf. In San Francisco, crab refers to the tender, slightly sweet Dungeness crab, served steamed and traditionally paired with sourdough bread and white wine. Enjoy the bounty at longtime favorites such as the Franciscan Crab Restaurant, which serves crab with a garlicky, buttery sauce; or Crab House at Pier 39, where the delicious crustacean is served on a hot skillet. Family-owned and operated for more than 50 years Scoma's (http://www.scomas.com) is known for its ample Crab Louis salad. For a different approach, Chinese restaurant R&G Lounge (http://www.rnglounge.com) whips up excellent salt and pepper crab.
Chocolate
You can combine two holiday treats - chocolate and holiday lights - on Gourmet Walks Holiday Lights and Chocolate Tours (http://www.gourmetwalks.com). The downtown walk, which has seven stops (each with its own chocolate tasting), runs Fridays and Saturdays from 4:30 to 7:30 p.m. during the month of December. See the lights of Union Square, Embarcadero Center, the Palace Hotel and Westfield San Francisco Centre while sipping hot chocolate and nibbling a peppermint truffle.
Teddy Bear Tea
Check out the "Teddy Bear Tea'' at the Ritz-Carlton Hotel on Nob Hill (http://www.ritzcarlton.com/en/Properties/SanFrancisco/Default.htm) if you're out with the kids and need to rest tired feet. This charming holiday show stars an entertaining elf and his animated helper and boasts a giant teddy bear. Every child gets a photo with the giant teddy. Shows are at 10 a.m. and 1 p.m., Dec. 5-7, 13-14 and 19-23. And it's for a good cause; a portion of the proceeds goes to the Make-A-Wish Foundation, benefitting children with life-threatening medical conditions.
Gingerbread Houses
The Fairmont Hotel atop Nob Hill (http://www.fairmont.com/sanfrancisco) showcases an enormous holiday-time gingerbread house made with thousands of ginger bricks baked by the hotel, adorned with icing and candy and displayed in the Fairmont's splendid main lobby. The life-sized gingerbread house is just for looking, but when it premieres Nov. 29, complimentary hot chocolate and cookies will be served. The Fairmont's annual "Gingerbread Holiday Tea'' continues through Dec. 31 in the Laurel Court Restaurant & Bar, just off the lobby.
Chinese Food
If you like Chinese food and you like to laugh, don't miss "Kung Pao Kosher Comedy'' (http://www.koshercomedy.com), a popular annual event held on Christmas Day in Chinatown, where diners savor a Chinese restaurant meal – the host restaurant is wont to change from time to time – while Jewish comedians serve up jokes and stories. The event was started in 1993 by San Francisco comedian Lisa Geduldig to give the Jewish community something to do on Christmas. It's expanded since then to dish out entertainment to a diverse audience. Food and fun are the common denominators. If you want the food without the laughs, we have plenty of options, neighborhood by neighborhood, whether it's Chinese food or Dim Sum.
Mochi Cakes
"Omochitsuki Mochi Pounding'' at the Asian Art Museum (http://www.asianart.org) on Jan. 10 lends an international flavor to holiday celebrations. Mochi pounding is the rigorous, by-hand process used to make tempting, sweet mochi rice cakes. The Kagami Kai group helps kick off the Japanese New Year at this handsome museum in the Civic Center with music, dance and festive costumes, along with freshly made mochi cakes.
What to Drink:
Given San Francisco's mercurial climate, December can be pleasantly temperate — although you should always be wary of fog or oceanic winds, which can deliver a sudden chill. Chicagoans might bristle at our definition of cold, but along with an emergency sweater, every San Franciscan carries a mental list of places to seek warm refuge in case the marine layer smothers a lovely afternoon. Whether you're looking to recharge with a tasty treat or need a spot to warm your bones, here are some great drinks for chilly days.
Irish Coffee
Riders on the city's famous cable cars have long stopped for an Irish Coffee at the Buena Vista Café, (http://www.thebuenavistal.com). The first in America (according to the historical plaque), their method of aging and frothing the cream so that it floats dates back to 1952. It's not far from PIER 39 )(http://www.pier39.com), so it's a great spot to warm up before or after festivities like the Christmas Tree lighting ceremony.
Hot Buttered Rum
Smuggler's Cove (http://smugglerscovesf.com/trapdoor) in Hayes Valley is a unique place: it's devoted entirely to rum. And with 400 in stock, there is no better venue for a hot buttered rum than this beloved tiki bar, lauded by Bon Appetit and Esquire for its cocktails. Prepared with demerara rum and a secret spice mix, it would warm up a pirate of the Caribbean who's marooned in the Arctic.
Hot Toddy
A hot toddy is an uncomplicated drink that can be had almost anywhere. But if they begin to feel more like a folk remedy for the common cold than a proper libation, head to Elixir (http://www.elixersf.com) in the Mission district. A staple of any dive bar tour, this neo-Victorian saloon serves more than 330 different whiskeys, meaning that basic hot yoddy can take on vanilla notes or a serious peaty flavor.
Afternoon Tea
If ever a jaded San Francisco resident claims there are no good restaurants on the waterfront, grab them by the wrist and bring them to The Slanted Door (http://www.slanteddoor.com) for afternoon tea (2:30-4:30 p.m. daily). Among the herbal blends and oolongs, you'll find black Hong Kong milk tea and Thousand Days red jasmine, perfect for when the breeze is stiff. There's an afternoon food menu as well.
Loose Leaf Tea
Loose leaf tea lovers have long flocked to Samovar's (http://www.samovartea.com) three tea houses (in the Castro, Yerba Buena and Hayes Valley), but the opening of their decidedly high-concept Valencia Street location was an abrupt shift. This minimalist, travertine-filled space was literally designed around the stone mugs, offering restorative tonics like Green Ecstasy (made with Japanese sencha and matcha powder).
Coffee
Tea's resurgence pales beside the dominance of Third Wave coffee, however, and San Francisco's premier temple to caffeination remains the flagship Sightglass Coffee (http://www.sightglasscoffee.com) South of Market. Beautiful, barn-like, and Wi-Fi-less this café-roastery is as full of tech workers as industrial equipment and sacks of beans, all of them queuing patiently for innovative drip coffees harvested from small lots.
European Hot Chocolate
Should coffee start to feel a little utilitarian, the eastern European hot chocolate at Boulette's Larder (http://www.bouletteslarder.com) is a decadent affair: thick, fortifying and served straight out of a copper kettle. It's a perfect accompaniment to browsing the Ferry Building farmers market on a gusty Saturday morning, as it'll keep your hand nice and toasty.
Mexican Hot Chocolate
But since this is San Francisco, Mexican hot chocolate must not be overlooked. No taquería has the bragging rights to authenticity that La Oaxaqueña (http://oaxaquena.yolasite.com) has. Until the city put a stop to it, they used to serve grasshopper tacos. Slightly gritty though this block of Mission Street may be, the cinnamon-y Mexican hot chocolate here is a genuine treat. Made with ground almonds, it's even better with a pinch of guajillo chili powder for that addictive burn.
The San Francisco Travel Association is the official tourism marketing organization for the City and County of San Francisco. For information on reservations, activities and more, visit http://www.sanfrancisco.travel or call 415-391-2000. The Visitor Information Center is located at 900 Market St. in Hallidie Plaza, lower level, near the Powell Street cable car turnaround.
American Express® is the official Card partner of the San Francisco Travel Association.
San Francisco International Airport (SFO) offers non-stop flights to more than 34 international cities on 29 international carriers. The Bay Area's largest airport connects non-stop with 78 cities in the U.S. on 15 domestic airlines. SFO is proud to offer upgraded free Wi-Fi with no advertising. For up-to-the-minute departure and arrival information, airport maps and details on shopping, dining, cultural exhibitions, ground transportation and more, visit http://www.flysfo.com. Follow us on http://www.twitter.com/flysfo and http://www.facebook.com/flysfo.
# # #
Note to editors: For news and story ideas, follow @SFMediaRelation on Twitter. Photos and press releases are available at http://www.sanfrancisco.travel/media/.