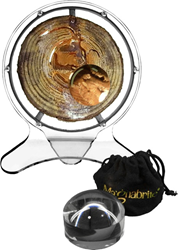 These complex and evolved insects are incredibly fascinating to observe and have important lessons to teach us.
San Francisco, CA (PRWEB) December 11, 2014
With the launch of Termitat®, Xylocycle LLC is determined to change the public's perception of termites. The recently unveiled termite habitat is now being funded on Kickstarter and could be this year's most unusual new product to hit the market.
The Termitat is a desktop exhibit for home, office, or classroom and features forest dwelling Dampwood Termites in a secure, museum quality habitat. The elegantly designed units come with an installed colony of termite workers and soldiers from North America's largest termite species and feature termite soldiers that can reach 3/4 inch long.
As Termitat's founder Chris Poehlmann states, "these complex and evolved social insects are incredibly fascinating to observe and have important lessons to teach us. Dampwood termites are not the subterranean or drywood termites that account for almost all of the damage to wood structures in North America. Their cousins, the Dampwoods installed in the Termitat, make this desktop exhibit the best way to view one of the wonders of the insect world."
The termites can live happily in their sealed yet visible world for years with the absolute minimum of care. Termitat owners will only need to add a thimbleful of water with a supplied applicator about every two weeks to maintain a healthy colony whose members build, groom, feed, and communicate with each other. "Owners will have years of pleasure observing interesting termite social behavior and their progress with the built-in wood food supply. They could be the easiest-to-care-for 'pet' ever," says Chris.
Each Termitat unit includes a 32 page, full-color illustrated companion book that features comprehensive information about the Termitat and the termites living in it. One of the most interesting and talked about features is Termitat's optional USB 500X magnification electronic microscope which enables owners of the unit to view the colony up close on their computer screen, adding the ability to record video and/or enable a real-time living desktop screen saver.
For more information you can visit the Termitat Kickstarter Campaign or termitat.com