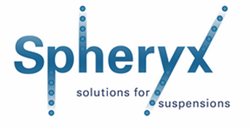 New York, NY (PRWEB) December 09, 2014
Spheryx, Inc., the developer of proprietary analytical capabilities for colloidal materials, announced today that the technology behind Spheryx's Total Holographic CharacterizationTM is profiled in Scientific American's December cover story entitled "World Changing Ideas". Spheryx's novel technology is one of 10 new scientific discoveries that Scientific American magazine predicts will drive progress in the years ahead. This new form of holographic microscopy developed by Dr. David Grier, a physicist at New York University and Co-Founder of Spheryx, is described in the section of the article titled "Video Cameras for Nanoparticles, Electron microscope resolution for quick-and-dirty industrial applications". Spheryx CEO and Co-Founder, Dr. Laura Philips, stated "We are delighted that Scientific American has highlighted the revolutionary nature of the technology, which provides a new window into complex colloidal mixtures, with applications across a wide range of industries. Total Holographic Characterization has the potential to improve the quality, performance and cost of products that people purchase, use and consume everyday." The technology described in the article is exclusively licensed to Spheryx, Inc. where it is being developed for a variety of commercial applications.
About Spheryx, Inc.
Spheryx, Inc. is a privately held analytical services and instruments company providing Total Holographic CharacterizationTM capabilities. The breakthrough proprietary technology, based on holographic video microscopy, enables the real-time, sub-microscopic characterization of multi-component colloidal materials. Applications include research and development, quality assurance and manufacturing process control across a broad spectrum of industries, where characterization of colloids can enhance innovation, safety and cost savings. For more information please visit the company's website at http://www.spheryx.solutions
Note: This news release contains forward-looking statements regarding future events. These statements are just predictions and are subject to risks and uncertainties that could cause the actual events or result to differ materially. These risks and uncertainties include, among others: the results, timing and costs of our studies; our ability to obtain future funding on acceptable terms; the possible impairment of, or inability to obtain intellectual property rights; and innovation by our competitors.