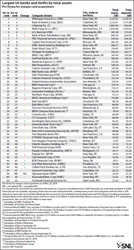 (PRWEB) December 10, 2014
New York-based Signature Bank was the sole new entrant to the top 50 bank and thrift list in the third quarter, coming in at No. 48.
Signature Bank's assets jumped by $1.42 billion in the third quarter, ending at $25.95 billion as of Sept. 30. The company managed to grow its assets by almost 25%, year over year. After vacations and a slow loan closing rate hampered progress in August, September proved pivotal for Signature Bank as activity picked up during the month and early October loan closings were pushed forward, said CEO Joseph DePaolo in an Oct. 21 conference call. The bank reported a $1.12 billion quarter-over-quarter increase in its loans balance for Sept. 30. Almost 71% of the increase came from the real estate loans category.
Signature launched two new business lines in the third quarter — marine finance and national finance — the former specializing in the financing of commercial vessels, including supply ships and tug boats, and the latter more focused toward financing franchises. According to a transcript for a Nov. 13 conference call, DePaolo affirmed the company's interest in expanding further with the establishment of a "municipal finance" business line in 2015.
The "Big Four" U.S. banks maintained their positions in the third quarter, led by JPMorgan Chase & Co. and Bank of America Corp. with more than $2 trillion in assets apiece, followed by Citigroup Inc. and Wells Fargo & Co. at $1.883 trillion and $1.637 trillion in assets, respectively.
Click here for the full report: http://www.snl.com/InteractiveX/Article.aspx?cdid=A-30055131-13369.