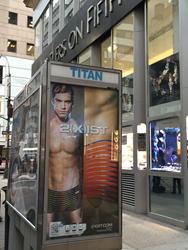 NEW YORK, NY (PRWEB) December 11, 2014
For the first time New York shoppers will be able to instantly buy the latest range from iconic men's fashion brand 2(X)IST via "Virtual Stores". This holiday season the brand partners with innovative mobile platform PowaTag to transform the way people shop.
From the 1st to the 21st of December, millions of passersby will be able to browse and purchase the latest 2(X)IST underwear ranges by using their phone to scan tags on virtual storefronts across key locations in the heart of the city making ordinary street corners a virtual marketplace for 2(X)IST. During the height of sales this holiday season just prior to Christmas and during the Chanukah festivities, hundreds of thousands more riding in the city's nearly 8,000 cabs will be able to buy directly from a 60 second video ad using the technology's patented audio tag capability.
The PowaTag platform enables the connected consumer to complete transactions where they want it most – right from their smartphone, via multiple touch points. PowaTag utilizes proprietary technology to transform any media into an instant "Virtual Storefront" – from printed products to billboards, websites and emails, digital watermarks encoded into live and pre-recorded broadcasts, and even specialized links on social media. Sales are completed in just seconds enabling PowaTag users to buy from their favorite brands at the peak of their interest – without delay.
2(X)IST creates high quality men's apparel utilizing the best fabrics and technology in colors and prints and that appeal to a stylish modern, man. Truly on the cutting-edge of not only fashion but technology, 2(X)IST's customer base, comprised mainly of millennials, will benefit from this unique campaign because they'll be able to shop using the one device they rely on most – their smartphone.
Dan Wagner, founder and CEO of PowaTag, said: "Over 600,000 people take NYC yellow taxis every single day , while countless numbers pass by billboards on the streets, and you can guarantee most of them will spend their journeys with their smartphones in hand. By enabling travelers to instantly, effortlessly complete transactions by simply holding up their phone and tapping, PowaTag is empowering 2(X)IST to turn impulse into action and reach a huge and currently untapped market, essentially opening Virtual Stores in some of the busiest parts of the city."
Tom Speight, President and CEO of 2(X)IST, said: "We are continually adapting our business, and have been for the last 25 years to keep ahead of the way ecommerce is transforming fashion retail. It's also become abundantly clear how important mobile commerce is for the future as we strive to meet our consumers where they are no matter the device of choice. Our campaign with PowaTag takes what we've learned one step further by putting the powerful tool of instant purchasing through a smartphone in the hands of busy New Yorkers who would otherwise glance at an advert and then forget about it."
PowaTag is available as a free download from Google Play and the iTunes Store now. Alongside audio tagging through adverts in NYC cabs, Virtual Stores will appear at these key locations:

148th St. & Madison Ave
939 3rd Ave. & 56th St.
52nd St. & Park Ave.
6th Ave. & W. 33rd St.
2nd Ave. & E. 59th St.
62nd St. & Lexington Ave.
61st St. & Broadway
47th St. & 5th Ave
58th St. & 2nd Ave
About 2(X)IST - Innovators in Comfort, Fit, and Style
Known for cutting-edge fashion, contoured shapes, and superior comfort, 2(X)IST creates designs to fit men's lives. Founded in 1991, 2(X)IST has grown to become an iconic men's lifestyle brand with a style and fit for every occasion. 2(X)IST leads the evolution of fabrics, materials, and technology to create better fitting Underwear, Swimwear, Apparel, and Accessories for fashion-forward, confident, and modern men.
Currently, 2(X)IST is available at Partner Retailers across six continents, including multiple 2(X)IST-branded storefronts and shop-in-shops throughout Asia.
About Powa Technologies
Powa Technologies is an international commerce specialist that creates technologies that enable a seamless consumer experience across all purchase channels: online, offline and everywhere. With its next-generation solutions PowaTag, PowaPOS and PowaWeb, Powa removes the final barriers to instant global transactions through a revolutionary instant mobile payment technology, the first fully-integrated mobile POS platform, and advanced cloud-based ecommerce solutions. Significant investment capital has accelerated company growth, attracting the industry's finest subject matter experts to conceive, build and deploy innovative commerce technology at the heart of both merchants' and brands' future omni-channel selling strategies. Powa Technologies is headquartered in London, UK, with offices in New York, Atlanta, San Diego, Miami, Toronto, Paris, Madrid, Stockholm, Berlin, Amsterdam, Milan, Hong Kong, Taiwan, Singapore and Shanghai.
PowaTag In Action - https://www.youtube.com/watch?v=or0L7UnaP6g
For more information or images of PowaTag please contact Rani (Rani(at)flamepr(dot)com) on +44 (0)7590 534 173 or Matt (Matt(at)flamepr(dot)com) on +44203 357 9740, alternatively email Powa(at)flamepr(dot)com or visit: http://www.powa.com