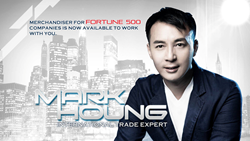 Many entrepreneurs have slowed or completely stopped Importing and Exporting because of the fear of potential scams. I eliminate those worries immediately.
Taipei, Taiwan (PRWEB) December 09, 2014
With Alibaba claiming the largest global IPO in US history many investors wonder whether importing from Asia still makes sense.
On September 22 2014 Alibaba made history by launching a record setting $25 Billion Dollar IPO. Many entrepreneurs are trying to capitalize on Alibaba's growing influence on the western markets but don't understand what it takes to profitably wholesale import from the Asian markets.
"Many new entrepreneurs make the mistake of finding suppliers but not understanding the logistical, cultural, and communication differences with working with that supplier." Mark Houng from Markhoung.com says.
Mr. Houng is an industry leading expert at coaching new entrepreneurs new to importing from china and helping them navigate through the common pitfalls most new investors make.
"Our goal is to make sourcing from China and other Asian markets easier for the new investor so we can eliminate scams, logistic nightmares, get quality products and services and create a profitable and scalable business for our clients."
According to the US department of commerce China represents 19% of all US imports and the numbers are growing every year. With Alibaba's record breaking IPO that growth is expected to continue.
If you are interested in more information about Mark Houng's coaching program you can learn more by visiting [Title Owner
[Name] Mark Houng
[Phone Number] USA (617)830-1850 Taiwan 886 2 8751 6391
[Street or Mailing Address] 32, Aly 188, Ln 21, Wenhu St. Taipei, Taiwan
[Press Contact Email Address] mark(at)markhoung(dot)com