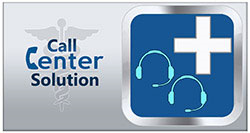 Centura Call Center's innovative use of TriageLogic's protocols demonstrates ...healthcare organizations can use their existing electronic systems or platforms and simply embed triage protocols within TriageLogic's API triage module. - Dr. Ravi Raheja
Jacksonville, FL (PRWEB) December 10, 2014
TriageLogic announces a successful two-way integration of TriageLogic Call Center Solution™ software and Centura Connect's new Call Center platform, their Salesforce Service Cloud. This integration allows nurses using the systems to work seamlessly between Centura's Salesforce Cloud to manage patients and the call center software to triage patient phone calls.
Charu Raheja, PhD and CEO of TriageLogic, says, "We are committed to innovative technology solutions that improve patient care and efficiency. This innovation is just another example of our work." Combining TriageLogic's Call Center Solution™ software with Salesforce enables Centura to have a fully customized non-clinical platform while providing triage protocols to their clinical staff.
Centura Connect Call Center is a healthcare network that serves more than half a million people each year. After selecting Salesforce as their basic platform for encounter management, Centura was still in need of triage protocols for their clinical nurse triage component. Triage protocols assist nurses in determining the appropriate level of care based on the patient's medical symptoms. Full integration simplifies and quickens the process for both staff and patients by allowing nurses to easily access the clinical protocols directly within the Salesforce platform, assess the patient's symptoms, and have the notes automatically saved in the Salesforce database.
Traditionally, triage software has been a freestanding component that is used in conjunction with other call center platforms. This integration was accomplished using TriageLogic's web-based API (application programming interface) triage protocol module. An API allows the integration of new components within existing applications. "Centura Call Center's innovative use of TriageLogic's protocols demonstrates that hospitals and other healthcare organizations can use their existing electronic systems or platforms and simply embed triage protocols within TriageLogic's API triage module," says Ravi K. Raheja, MD, Medical Director of Triage Logic.
About Triage Logic:
Founded in 2005, TriageLogic is a URAC accredited, leading provider of quality triage solutions, serving over 3,000 physicians and covering 6.5 million people. TriageLogic provides both software and after-hours nurse triage services. Whether you need nurse triage software for your call center or your office, an outsourced nurse triage service, or a combination of the two, TriageLogic has a customized, cost effective product to meet your needs. For more information contact Amy Smith at 888-TEAMTLC or visit http://www.triagelogic.com.
About Centura Health:
Centura Health is a health care network that includes 15 hospitals, eight affiliated hospitals and emergency rooms, among other care facilities. The company serves the needs of more than half a million people across Colorado and Western Kansas each year. For more information visit:
http://www.centura.org/Centura-Connect/