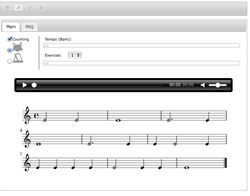 "…as the app adjusts to help tackle those parts of musicianship that need work, students will find that they are not just learning the subject; they are learning about themselves in a logical and objective way
(PRWEB) December 11, 2014
Introducing Muse-Eek U, the latest innovation from Bruce Arnold. In his long career as a musician, author and educator, Bruce Arnold has created an approach to teaching music that is holistic and successful. He has also been on the cutting edge of technology; his music education books were the first to be carried in the iBooks library. Now he has created Apps for learning music, utilizing the same innovations and techniques he has developed over his 30 years of hands-on teaching. "There are a lot of Music Apps out there and some of them are useful, but in general, I don't think they address the basics of music the right way," says Arnold. "That's a shame because an App is a great way to learn."
The first three of these Apps can be accessed at the new Muse Eek U. They address Ear Training, Rhythm, and Direct Musical Application. And there are more on the way.
"Apps should be interactive, not just passive," says Arnold. "It's important to build them with a variety of approaches depending on the subject.  It is also important to make sure that these subjects are taught as they relate to ALL of music. That's the only way to insure that a student becomes a complete musician."
"My Apps are flexible," he continues "for example, the Ear Training app learns what the student is getting correct and incorrect, and adjusts accordingly, so that practice does not get redundant. A side benefit of this is that as the app adjusts to help tackle those things that need work, students will find that they are not just learning the subject, they are learning about themselves in an objective way."
Apps allow much more variety in how one can learn a musical subject.  The "Rhythm" App contains exercises where one hears a voice counting the time in the background. But there is also a choice to hear drums playing along with the rhythm, and the student can loop the sections that are problematic.  These different approaches all involve Rhythm but they give the student more contexts to work with.
The Bass-ics" App prepares the student for playing with others. An exercise plays a random four note bass line (notes are not identified) requiring the student to identify them, establish a key center, choose a scale to improvise with, as well as a related chord progression.
"The main thing about my Apps," concludes Arnold "is that they are all based on my own experiences, observing how my students learn best.  My goal has always been to make sure my students come out the other end of my courses as Complete Musicians, who can compose and play with others creatively, freely and joyfully."
Bruce Arnold currently teaches at Princeton University and has taught at New England Conservatory of Music, Dartmouth College, Berklee College of Music, New School University, and City College of New York and NYU.