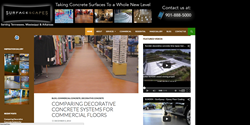 "We've been lucky enough to serve an incredible range of customers, from industrial sites to residential garage floors to high-end restaurants and more," Gene White
Memphis, Tennessee (PRWEB) December 11, 2014
SurfaceScapes has today debuted the company's new website, designed to provide users with in-depth information and visual examples of the firm's quality in decorative concrete installations and service in Memphis, TN. The new website design offers simpler navigation, significantly greater ease of use, but most importantly, it provides a dramatic, accurate look into the company's skills, capabilities and offerings.
"Seeing is believing, but, as much as we'd like to, we just can't take all our prospective customers to each jobsite," explained Gene White of the company. "Our new website capitalizes on the idea that a picture is worth a thousand words and provides high-quality images of our work in a wide range of installation types, from restaurants to homes, and covering a full gamut of solutions."
The new website is geared to get around the disconnect that text descriptions can create. While words might perfectly describe a company's capabilities and dedication to quality, there is no substitute for seeing those results with the human eye. By incorporating high-impact imagery throughout the company's new website, SurfaceScapes delivers a stunning visual journey that also perfectly encapsulates their abilities in delivering outstanding custom concrete staining, concrete repair, concrete coating and texturing for both commercial and residential customers.
"We've been lucky enough to serve an incredible range of customers, from industrial sites to residential garage floors to high-end restaurants and more," Mr. White added. "The problem with conventional website design is that it lacks that visual punch. Our new site delivers a superior customer experience, while connecting them directly with real-life examples of our work and illustrating not only what we can do for them, but the results they can expect from the project."
SurfaceScapes is proud to offer indoor and outdoor concrete applications, including coloring and staining, stamping and patterning, polishing and even vertical stamping. The company serves customers throughout Tennessee, Mississippi and Arkansas, delivering the highest quality service and installation possible.
To find learn more about what SurfaceScapes can offer clients or to view previous projects and products, visit http://www.SurfaceScapes.com.
About SurfaceScapes: SurfaceScapes is a licensed SUNDEK dealer and installer serving Tennessee, Mississippi and Arkansas. The company provides high-quality custom concrete staining, coating and texturing for commercial and residential clients.