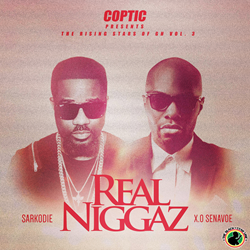 New York, NY (PRWEB) December 09, 2014
Coast 2 Coast Mixtapes presents the release of the "Real Niggaz" single by Coptic, Sarkodie, and X.O. Senavoe. This single is currently available for download on the Coast 2 Coast website. This presentation is exclusively produced by legendary hip hop producer Coptic.
"Real Niggaz" is the 1st Single off Ghanaian producer Coptic's album The Rising Stars of GH Vol III.
Coptic is a #1 Billboard & Multi Platinum award winning producer for the likes of P Diddy, Notorious BIG, Trey Songz, Gucci Maine and others. If you don't know Coptic by name, you definitely have heard some of his music. By gaining such notoriety throughout the music industry, it is safe to say that the latest release from Coptic is very appealing to even the most skeptical hip-hop listener.
For more info on Coptic, follow him on twitter at: @BlackStarLineGH
About Coast 2 Coast LIVE:
Coast 2 Coast LIVE tours in over 10 cities every month to bring indie artists major opportunities through our interactive showcase events. Artists submit via the website and get votes to perform in their city, judges critique the artists in various categories to find a winner for every city to take their music career to the next level. For more information, visit http://www.coast2coastlive.com