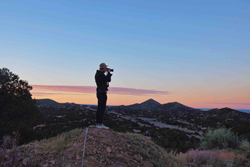 This campaign promoted Santa Fe in a way that had never been tried before while giving local businesses and professionals exposure, knowledge and job opportunities. #HowToSantaFe met and exceeded every expectation. --Mayor Javier Gonzales
Santa Fe, New Mexico (PRWEB) December 09, 2014
12FPS, a boutique creative agency based in San Francisco, Calif. and Santa Fe, New Mexico, today announced the results of their comprehensive social media campaign #HowToSantaFe, a first for the city of 82,000. Through in-kind donations from local businesses, public meet ups with renowned Instagram photographers and workshops designed to give local businesses and tourism industry professionals the tools to use the Instagram platform, #HowToSantaFe resulted in one of the city's most impactful promotions to date.
In order to stimulate entrepreneurship and tourism in a never-before-seen way for the City Different, 12FPS was hired by the City's Economic Development Department after a RFQ process in spring of 2014. 12FPS then set out to harness the power of one of the most powerful social media platforms that exists: Instagram. With 20 billion images shared since its inception in 2010, Instagram has 200 million monthly users, 65% of which are outside of the United States, and users "like" an image posted on the app 60 million times daily, on average. Instagram boasts an astonishing average of 75 million users on a daily basis , making it an ideal (or increasingly popular) platform for brands and destinations to reach new audiences.
The #HowToSantaFe campaign resulted in:

4.9 million people reached
52.3 million impressions
$261,000 value in marketing ROI for the City of Santa Fe
$55,000 in-kind donations from local businesses
$50,000 new paid work opportunities over one year
10,719 posts to #HowToSantaFe on Instagram alone
10 local businesses have launched Instagram campaigns
94% of locals surveyed feel that promoting Santa Fe through social media is important
58% feel that social media is the most effective way to reach people
Users in 30 states across the USA and 12 countries are using #HowToSantaFe
"We set out to reach a younger audience on a national and international scale and promote Santa Fe in a way that complemented our reputation for the arts," said Mayor Javier Gonzales. "This campaign did it in a way that had never been tried before while giving local businesses and professionals exposure, knowledge and job opportunities. #HowToSantaFe met and exceeded every expectation."
While a few destinations such as Alberta, Canada, the Gold Coast in Australia, Philadelphia and Los Angeles, have undertaken efforts to Instagram their way into the hearts of travelers, Santa Fe's small population and reliance on traditional print advertising budgets in the past puts the success of #HowtoSantaFe in a whole new category.
"We wanted to help local businesses develop social media strategies and engage the community in celebrating Santa Fe," said Kate Noble, from the City of Santa Fe Economic Development Division. "This project was a valuable partnership with local media companies and it generated local jobs, helped local business, and updated our national and international image. It was a win all around for economic development and tourism."
A total of 8 social media influencers were brought to the city, including:
Christoffer Collin: 787,000 followers
Kael Rebick: 369,000 followers
Jon Taylor Sweet: 100,000 followers
Paul Tellefsen: 72,000 followers
Sarah Palmer: 565,000 followers
Tyson Wheatley: 551,000 followers
Jessica Zollman: 250,000 followers
Sam Horine: 383,000 followers
"12FPS and Santa Fe are joining the small but powerful ranks of other creative agencies and destinations focused on a whole new way of marketing themselves," said 12FPS Director Adam Shaening-Pokrasso. "The photo-centric nature of Instagram is a natural platform for exposing people to the beauty of this place. We have people saying they're planning trips or even moving to Santa Fe based on images and stories shared through #HowToSantaFe."
As a result of the success of the campaign, 12FPS is now being approached by national businesses and destinations to achieve similar results in destination marketing on the social media platform. Entering uncharted territory, 12FPS is also looking at professional representation of some of the world's most influential Instagrammers by brokering their deals with leading destinations and brands.
To see a direct Link to complete report, go to: http://12fps.com/howtosantafe-report.pdf
To view promotional videos and other information, go to: http://12fps.tv/howtosantafe/
If you have questions about 12FPS, please contact howtosantafe(at)12fps(dot)com; for statistics go to http://howtosantafe.com/stats or contact Adam Shaening-Pokrasso 415.948.5936; adam(at)12fps(dot)com or Erin Azouz, erin(at)12fps(dot)com.
For media inquiries, please contact:
Jennifer Hobson-Hinsley
505 603 8643
Jennifer(at)jlhmedia(dot)com
###
ABOUT #HowToSantaFe: #HowToSantaFe is a project lead by 12FPS and in collaboration with ANAGR.AM and JLH Media. Funding provided by Santa Fe Economic Development Department with support from Mayor Javier Gonzales.
ABOUT 12FPS: 12FPS is a creative agency with offices in San Francisco and Santa Fe. Its emphasis on cutting edge video production, motion design and social media strategy provides a competitive edge in the southwest market. 12FPS has been instrumental in developing content and marketing strategies for clients such as Google, Adobe and other national brands. Its work has contributed to the launch of startups such as Lytro Camera and RedBeacon, been featured at Sundance Film Festival and can be found on interactive displays at Best Buy and Target. 12FPS also brings a reputation in education content with two published books by Peachpit Press and video training content used at Stanford University, Asian Art Museum, MIT Technology Review and in Home Depot stores across the country.