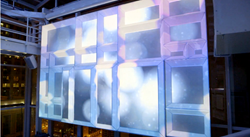 There aren't many venues that can offer what theWit can, so we're really excited to continue this relationship...
Chicago, IL. (PRWEB) December 10, 2014
Chicagoland-based Chicago Projection Mapping is pleased to announce the continuation of its commitment with theWit Hotel's famous rooftop nightclub, ROOF. Rated as the #1 nightclub and bar and #1 day party by Travel and Leisure Magazine, ROOF is consistently rated one of the hottest night spots in Chicago. One of the unique elements boasted by ROOF nightclub is an installation called "theWall on ROOF"-a twenty-foot wide, twelve-foot tall projection mapping wall on which showcases live, interactive media from top creators shown by a top-of-the-line Panasonic 20,000 lumen projector. This allows Chicago Projection Mapping to offer mapping services not only to the nightclub itself, but also to the many corporate events that select theWit Hotel as a meeting, event, or convention venue.
This collaboration has blossomed into a mutually beneficial relationship, in which theWit Hotel showcases a considerable feather in its cap, and Chicago Projection Mapping is able to produce high-end installations for clients at a fraction of the price that might normally be required. CPM is able to do this because much of the groundwork has already been laid, including a consistent map of theWall's architecture, and projection infrastructure is already in place, not requiring a custom build for each client. This makes theWall a perfect compliment to a wide variety of events, from visual effects for popular DJs to mesmerizing displays for corporate events or announcements from popular brands.
"ROOF has been a great partner over the past year and a half," said Chicago Projection Media founder Mark Smith. "There aren't many venues that can offer what theWit can, so we're really excited to continue this relationship, as it's already worked out so well for both us." Smith goes on to mention that theWall on ROOF has allowed Chicago Projection Mapping to work with a wide variety of clients, some of who had never even heard of this new technology. "This is still novel technology," he said. "So we give a lot of credit to theWit for being so forward-looking. They're really ahead of the curve here."
During corporate events, Chicago Projection Mapping offers services that allow companies that use theWall to create a kind of visual centerpiece to their presentation. This is perfect for a wide variety of events-from Christmas parties, to product unveilings, to team building activities-and projection mapping creates a unique impression that will remain for quite some time. On the other side of the coin, theWall offers visual effects services to the nightclub side of ROOF, using cutting edge technology to create dynamic visuals that react to the music. The team at Chicago Projection Mapping has worked with both ROOF's excellent in-house DJs as well as internationally recognized artists who have headlined Lollapalooza.
The success of this installation certainly leads one to think about potential applications of permanent installations in other arenas and convention centers. Such permanent installations could drastically reduce the cost of live entertainment and offer convention centers or hotels an added bonus that they could advertise to the very competitive convention and corporate meeting market. The same could be said of nightclubs looking for ways to draw in the ever-more desirable youth demographic and make shows more compelling and interactive. These applications and beyond could dramatically benefit from a permanent projection mapping installation. For more information about setting up such an installation, or about setting up a live display at ROOF, contact Chicago Projection Mapping by e. mail: info(at)ChicagoProjectionMapping(dot)com.
View Sample Highlight Video of 3D Projection Mapping.
About Chicago Projection Mapping: Based in Chicago, IL, Chicago Projection Mapping is a full service content creation and 3D projection mapping company, serving the corporate, event, meeting, and convention sectors. For more information, please visit http://www.ChicagoProjectionMapping.com, or call 630-620-0000.