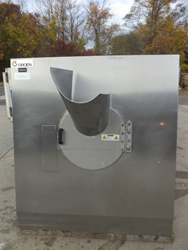 (PRWEB) December 11, 2014
Wohl Associates, a Bohemia, NY-based leader in used processing and packaging machinery, adds a Groen/DC Batch Tumble Chiller to their equipment inventory. Of particular interest to cook-chill operations, this rapidly cools hot, low viscosity product to around 40C in 60 minutes or less, readying it for packaging while reducing the risk of bacterial growth.
This Groen/DC Batch Tumble Chiller features a front-loading stainless steel drum, integrated heat exchanger, and modern controls for optimal process control. Product in flexible casings is loaded into the drum which rotates while chilled water circulates through. The gentle tumbling action maintains product texture and consistency and delivers better taste than other, slower, cooling methods.
The side-mounted controls provide a range of functions to aid rapid chilling and the unit takes a 3 phase, 60 cycle, 208 V electrical supply. In excellent condition, this well-treated, used tumble chiller incorporates a number of additional useful features. Buyers should call for details.
Those looking for a used tumble chiller may also be interested in related items of used food processing equipment. Current Wohl Associates inventory includes a 200 gallon Lee kettle, a 3,000 gallon Walker kettle and a six-head inline filling system.
The Lee kettle is jacketed for 90 PSI at 332 0F and has a double motion scraper agitator driven by a 4 HP motor. The Walker kettle has a jacket rated 15 PSIG at 2500F (heat) and 100 PSIG at 1000F (cool) and is equipped with bottom and side scraping agitation plus a high speed pitched turbine agitator.
The inline filler has six heads over a 10' long plastic chain conveyor and a top mounted stainless steel product feed tank 18" wide and 58" long. Fully automatic servo positive displacement filling means a wide range of viscosities can be handled.
Potential buyers wishing to learn more about the Groen/DC Batch Tumble Chiller or other listed items should contact a product specialist at Wohl Associates.
About Wohl Associates
Wohl Associates is a leading dealer in the used processing and packaging machinery industry. With a history and solid reputation spanning over 40 years, they have earned the trust of their clients by offering quality pre-owned equipment, expert customer service and invaluable knowledge to their customers. They treat each customer on an individual basis and customers are provided the highest level of service. With a large inventory including cartoners, ribbon blenders, stainless steel tanks, unscrambling tables, colloid mills and vitamin manufacturing equipment.