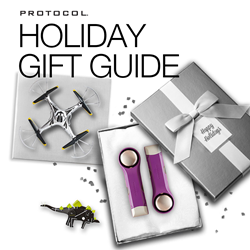 It's one-stop shopping and a perfect home for the Guide
New York, NY (PRWEB) December 10, 2014
Santa must be thrilled to have the extra help. Protocol (http://www.ProtocolNY.com), has taken all the angst out of last minute shopping this holiday season with its Late Shoppers Holiday Gift Guide. It not only organizes your shopping list, but with its same day shipping promise, gift-giving elves everywhere have reason to be cheerful!
Protocol's Holiday Gift Guide features gifts for him, her, and kids, and makes it easy to get just the right gift in time– no matter who's on your list. The Guide caters to a man's playful side by focusing on a pair of super capable, state-of-the-art RC whirly gigs, the Flix II™ and Dronium™ Remote Control Helicopters. They both come equipped with on-board cameras that shoot amazing high POV footage, and gyro technology that makes them easier to fly than a magical sleigh full of toys.
While designated 'For Her' on the Guide, the Vino™ and Chef Plus™ would no doubt tickle the fancy of gourmands of both sexes. They are wine & cheese and kitchen prep marvels that pack 10+ tools in elegantly designed handles so appealing, they look like they could have been handcrafted by Kris Kringle himself.
Kids who've been naughty will be kicking themselves this holiday season. They'll be missing out on Protocol's 3D Wind-Up Puzzles – like the Stompasaurus™ and Gorilla-Matic™ to be exact. Eight Build-It-Yourself 3D puzzles feature wind-up motors that allow delighted kids (ages 8 to 88!) to build them, wind them, and race them.
"I call this time of year 'The Holidaze'," jokes Protocol's Robert Goldy, CEO of the Manhattan-based company, referring to the many dazed and weary shoppers, including himself. "We've made things easier, more convenient, and fun so people can take a breath and enjoy more moments. Our Holiday Gift Guide has great gift suggestions, and we'll ship the same day for orders arriving by noon (Eastern time and the following day, if the order comes after noon); right up to December 23rd.", says Goldy
Protocol's wonderful Holiday Gift Guide can be found at http://www.ShopProtocol.com, the company's online shopping hub. "We're launching ShopProtocol.com just in time for the holidays," said Goldy. "It's one-stop shopping and a perfect home for the Guide." Yet another reason for holiday cheer!
About Protocol
Protocol is a leading maker and marketer of cool branded, upscale, gift, gadget and household products with a well-earned reputation for innovation and quality. You can check out their products – from Protocol Air, their advanced line of RC helicopters to their MultiSmart line of elegantly ingenious multi tools – at http://www.ShopProtocol.com.