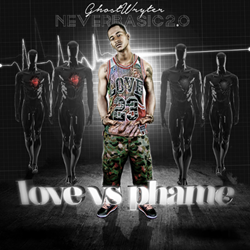 word is bond
Louisiana (PRWEB) December 10, 2014
Coast 2 Coast Mixtapes announce the release of the "Love Vs. Phame" mixtape by GhostWryter. The 16 track project is currently available for download on the Coast 2 Coast website.
Hailing from Louisiana, up and coming artist "GhostWryter" brings a refreshing new sound with the release of his latest mixtape "Love Vs. Phame". This mixtape features exclusive performances by Rob of Flight Takers, Max Minelli, BPowell, Lil Bezel, Tudda, R.E.A.L Chosen, and Tony Tumac. Containing multiple producers, this gives the listeners a variety of sounds to enjoy. Production credits go to LexiBanks, GussMakeMyBeats, Flight Takers, Street Empire, Superstar O, Platinum Sellers, Cartier Jones, Epik The Dawn, Xfyle Music, and Upside Muzic.
Opening up the mixtape with the hit "What's Up", GhostWryter tells his fans what is up with his music and style. This track flows into a short skit reminding everyone that your word is your bond. After, the mixtape slows it down with "Keep It G", which sends a message to the average american just struggling to get by. GhostWryter emphasizes his lyrical mastermind in each track and doesn't leave anything to question. If you want to hear more from GhostWryter follow him on Twitter at @ghost_wryter.
About Coast 2 Coast Mixtapes
Coast 2 Coast Mixtapes are the most widely distributed mixtapes in the world, with over 100 million downloads/plays generated by over 200 volumes officially hosted by major artists. Coast 2 Coast has a solid reach in the new music industry with a digital magazine, DJ coalition, industry tips blog, yearly convention, and more. Coast 2 Coast Mixtapes represents a unique opportunity for artists of all urban genres, from major to indie. For more information, visit http://www.coast2coastmixtapes.com.