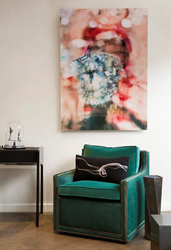 San Francisco, CA (PRWEB) December 10, 2014
Interior designer and stylist Vanessa McBride of Vanessa McBride Design partnered with Weaver Design Group and Michelle Bello Fine Art Consulting to create a fabulous holiday pop-up lounge experience, located in the showroom of San Francisco-based real estate group TeedHaze. The installation is a collaborative effort from McBride and Weaver. The duo was immediately inspired to create the installation after spotting a pair of Alice in Wonderland chairs and a stunning emerald green Diane Von Furstenberg snow leopard rug from Hewn Showroom. The result is a 1920s-influenced space for sipping and socializing, with a bend toward the avant-garde - a perfect compliment to San Francisco during the holidays.
Other standout pieces include a mid-century table, lucite bar cart, and vintage hair-on-hide chairs from Coup d'Etat; a stunning modern "Y" light from artist Christopher Boots available through The NwBlk; black and white felted wool pillows from Cavalier; vintage ikat prints from Madeline Weinrib; and original photography by Marilyn Minter depicting women eating their fine jewelry - a cheeky, artistic representation of overindulgence. Visitors can expect a space that transports them to the luxe debauchery of a bygone era, but is still deeply rooted in modern design.
TeedHaze is located at 1934 Union St., San Francisco, CA, 94123, and invites visitors to drop in Monday through Friday, from 11am to 6pm, and Saturday and Sunday from 12pm to 5pm. The Luxe Lounge runs through December 31, 2014. Entry is complimentary with RSVP.
About Vanessa McBride
Influenced by living and traveling abroad, Vanessa McBride's approach to design combines elements borrowed from a variety of cultures and aspires to create timeless design by balancing clean, modern lines and classic materials with the whimsical or unexpected. She founded Vanessa McBride Design in order to create spaces influenced by her unique design vision as well as to bring her commitment to organization, clarity and precision to the design process.
Visit our website: http://www.vanessamcbride.com