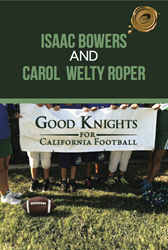 We both collaborated on the story, thinking of fun ways to take the plot.
Anchorage, Ala. (PRWEB) December 10, 2014
Carol Welty Roper and her grandson Isaac Bowers have crossed the generational gap and many miles to write a book about teamwork, commitment and community.
"The book was Isaac's idea. I helped him with the writing and getting it published," Roper said. "We both collaborated on the story between Alaska and California, thinking of fun ways to take the plot."
Their book, "Good Knights for California Football," is about the magic that can happen when a group of people works together to reach a great goal. Although football is the backdrop of the story, the goals the characters achieve are not only in the endzone.
In the story, a problem is presented when a character's father dies. The tragedy forces him to take up the responsibilities for the rest of the family. He must also navigate the challenges of his older brother's decision to join a gang.
These responsibilities and burdens prevent him from being able to participate in the football season. Together, the entire community recognizes the problems he and his brother are facing and come together to try to find a win-win solution.
"The book is meant to be a tale of teamwork, but also underlines how important strong communities and after-school activities are to support young people and keep them from going down the wrong path," Roper said.
For more information, visit http://www.timelessinktales.com
"Good Knights for California Football"
By Isaac Bowers and Carol Welty Roper
ISBN: 979-1-4907-0643-6
Softcover price: $12.00
Available in softcover and e-book
Available on Amazon, Barnes & Noble and Trafford Publishing Co.
About the author
Carol is a community member to look up to—the kind that Isaac writes about in their book. Carol has helped three children submit their stories' manuscripts for publication, worked as a college instructor, worked in biochemistry and food science and is the precinct chairman for elections in her district. She is also a private pilot. She has a love of travel and creativity who encourages others to be self-confident in pursuit their dreams. She lives with her husband near Anchorage, Alaska where she owns and operates her own business.
# # #
**FOR IMMEDIATE RELEASE**
For review copies or interview requests, contact:
Matt VanScoik
317.602.7137
mvanscoik(at)bohlsengroup(dot)com