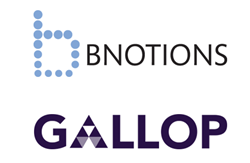 Toronto, Canada (PRWEB) December 10, 2014
Today Alkarim Nasser announced that he would be stepping down as Managing Partner of BNOTIONS to dedicate himself fully to his role as Co-Founder and Head of Product at startup Gallop Labs. The move comes on the heels of two major wins for Gallop Labs: a global Facebook Innovation Award and a $2.0M seed round co-led by Golden Venture Partners and Mantella Ventures alongside a group of well-respected angels. Gallop Labs is BNOTIONS' most recent spin-off. Taking the Managing Partner reins will be Paul Crowe, who joined BNOTIONS as partner in early 2011.
Nasser founded BNOTIONS in 2008, growing it from a four-person development shop into the 50+ employee innovation firm it is today. BNOTIONS is well known for their singular approach to superior digital products. Over the years, they have been consistently recognized for growth and innovation, winning spots on the Branham 300, Profit Hot 50, and Profit 500 lists, and creating award-winning work for their clients. They were also recently named Employer of the Year by the Toronto Board of Trade.
BNOTIONS' commitment to product innovation is what prompted them to incubate data science company Gallop Labs, which began as a service that BNOTIONS offered to their clients to help them grow a user base for their apps. It soon became apparent, however, that Gallop Labs had legs, necessitating the founding of a new company altogether.
"BNOTIONS is an incredible vehicle capable of creating world class products. I'm excited to bring 7 years of learning at BNOTIONS helping Fortune 500 clients solve their problems with technology to my work as Co-Founder and Head of Product at Gallop Labs," said Nasser. "Paul Crowe is a visionary leader, whose ideas and passion have already shaped the BNOTIONS team and business. I know he and the team will continue to do amazing things."
Since joining BNOTIONS, Crowe has been a force of change for the company, instrumental in driving growth, perfecting client services, and contributing to BNOTIONS' unique culture.
"BNOTIONS has seen a lot of momentum this last quarter. We've welcomed 10 new clients and innovative projects, covering loyalty, retail, finance, gaming, mobile payments, and telco. This puts us in a great position going into 2015 and serves as a testament to the vision Alkarim and I shared," said Crowe. "Alkarim has proven that he can not only create an inspiring vision but deliver on it. I know he'll apply this same passion to growing Gallop Labs."
Nasser will stay on as BNOTIONS' Chairman of the Board, and both he and Crowe look forward to a busy road ahead. Between BNOTIONS' aforementioned recent successes and Gallop Labs being poised for takeoff in the $31B mobile marketing advertising market, the future looks bright. Learn more about both companies at bnotions.com and galloplabs.com.
About BNOTIONS
BNOTIONS is a Mobile, Data, and Analytics Innovation Firm. We are the partner of choice for organizations with the desire to disrupt through innovation. We deliver large and complex deployments, but are small enough to retain a boutique approach to best-in-breed quality and agility. Our proprietary approach delivers measurable, effective, data-driven product innovation, from strategy to product launch and beyond. Put simply, we help organizations of any size think and act like a start-up. Learn more at bnotions.com.
About Gallop Labs:
Gallop Labs is a prescriptive mobile marketing platform that leverages data science and in-app behavioral analytics to help brands and mobile publishers find and optimize the most valuable users for their applications. Gallop Labs leverages user behavior and segmentation to drive precise targeting that maximizes customer LTV and app monetization. Gallop Labs was recently a winner of the Facebook Innovation Award. Gallop Labs currently has offices in New York City and Toronto. The company was incubated by BNOTIONS, a Facebook Preferred Marketing Developer and Leading Mobile, Data and Analytics Firm. To learn more about Gallop, visit http://www.galloplabs.com. For media inquiries, please contact press(at)galloplabs(dot)com.