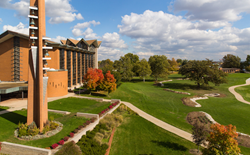 Valparaiso, Ind. (PRWEB) December 09, 2014
Valparaiso University has again been named to the President's Higher Education Community Service Honor Roll with Distinction, joining a group of select universities and colleges across the country that are honored for their support of volunteering, service-learning and civic engagement.
In addition to receiving distinction for general community service, Valpo was named with distinction to two new honor rolls: education and economic opportunity.
"As this honor reflects, students at Valpo not only engage in service, they create dynamic projects specific to our context, global community and faith traditions," said Elizabeth Lynn, director of the Institute for Leadership and Service. "By supporting students to lead and serve in these extraordinary ways, Valparaiso University is placing graduates on a lifelong path of service and civic learning."
Sponsored by the Corporation for National and Community Service, the Honor Roll annually highlights the role colleges and universities play in solving community problems and placing more students on a lifelong path of civic engagement by recognizing institutions that achieve meaningful, measurable outcomes in the communities they serve.
Honorees are chosen based on a series of selection factors, including the breadth, depth and innovation of service projects; the percentage of student participation in service activities; incentives for service; and the extent to which the school offers academic service-learning courses.
Valpo prepares women and men who are highly sought for their knowledge, character, integrity and wisdom. The University recognizes that opportunities for life-changing service experiences not only benefit individuals and communities but also deepen students' understanding of the world and themselves, and each year Valpo students dedicate more than 90,000 hours to community service.
Through countless other service-learning experiences including mentorship programs, domestic and international service trips, and organizations like Engineers Without Borders, Valpo students, faculty and staff work tirelessly to improve the lives of others — on campus, in the greater Valparaiso community and throughout the world.
Contact Nicole Niemi, senior director of public affairs, at nicole.niemi(at)valpo(dot)edu or 219.464.6010 for more information.
-30-
About Valparaiso University
Valparaiso University is a comprehensive independent Lutheran university with more than 4,500 students on its campus located in Northwest Indiana, an hour from Chicago. Valpo is a community of purpose-driven, service-minded and ethical individuals who embrace the pursuit of truth with freedom, humility and compassion. Valpo has been identified as one of the top master's-level institutions in the Midwest by U.S. News & World Report magazine for the past 26 years. Valparaiso University offers more than 110 undergraduate academic programs through the colleges of Arts and Sciences, Business, Engineering and Nursing and Health Professions. Valpo also has a distinguished honors college, a Law School, and more than 40 degree and certificate programs in its Graduate School and Continuing Studies. Valpo has been recognized for its commitment to outstanding teaching, preparing thoughtful leaders with strong cross-cultural skills and global awareness and dedication to serving others.