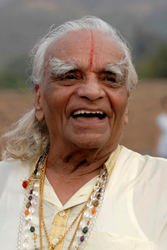 Yoga is the golden key that unlocks the door to peace, tranquility, and joy.
Seattle, WA (PRWEB) December 11, 2014
During the month of December, Iyengar Yoga practitioners across the globe are commemorating the life and accomplishments of Yogacharya (Yoga Master) B. K. S. Iyengar. A yoga pioneer, Mr. Iyengar died August 20, 2014 in Pune, India. He was 95. His birthday, December 14, has been marked by festive observances at his Institute in India for over 30 years.
More than 1,200 Iyengar Yoga students and teachers from 52 countries, including over 250 students from the United States, have assembled this December in Pune, India, the home of B. K. S. Iyengar for the past 70 years. They came for a 10-day intensive training session with Mr. Iyengar's daughter, Geeta Iyengar. The intensive training was originally planned to honor Geeta's 70th birthday, which falls days before Mr. Iyengar's. With his passing in August, the event also quickly became a commemorative event for his life and teachings.
Michael Lucey, President of the Iyengar Yoga National Association of the U.S. (IYNAUS), is among the 1,200 attendees. He reflected, "Geeta Iyengar's remarkable teaching is a moving tribute to her father, B. K. S. Iyengar, whose lifelong devotion to yoga brought the benefits of that practice to endless numbers of people all over the world." He continued, "The clarity, inventiveness, and effectiveness of her instruction and her compelling exposition of many aspects of her father's method explain why so many people have traveled from all over the world to be in Pune for these 10 days honoring her, her father, and the practice to which their lives have been dedicated."
Many at the intensive training have studied in India with the Iyengars before. However all have been particularly moved by this event. "The feeling in the room is reverential and joyful," commented Patricia Walden, one of the most senior Iyengar Yoga teachers in the U.S. "Fulfilling her father's wish, Geeta Iyengar is imparting Guruji (beloved teacher) Iyengar's legacy to the new generation with such fire and passion. She is illuminative, inspirational, and intimate. Although we are in a huge hall with over 1,000 people, each person feels touched by her. She is relentless in making us understand her father's teachings and helping us go beyond the limitations of our minds."
Rather than the usual birthday celebration that has occurred every December 14 in Pune, intensive training attendees will travel to Mr. Iyengar's hometown of Bellur in India, where he established a trust to redevelop the area.
Students in the U.S. will also mark this occasion with events in B. K. S. Iyengar's honor. The Iyengar Yoga Institute of New York will hold its Annual Meeting and B. K. S. Iyengar Birthday Celebration during the weekend of December 13-14, which includes a free class for members and refreshments throughout the day. At the Iyengar Yoga Institute of Los Angeles, a special video of Guruji Iyengar's 1984 San Francisco Demonstration will be shown and birthday cake and refreshments will be served. At the Iyengar Yoga Institute of San Francisco, teachers will offer reflections at a dinner and live music will be performed in his honor. Events in other U.S. cities will be held over the weekend as well.
About Iyengar Yoga
Founded more than 2,500 years ago, the practice of Astanga Yoga is based on the writings of Sage Patanjali and addresses the eight-limbed path toward spiritual enlightenment. Patanjali wrote in the Yoga Sutras (text) about the union of mind, body, and spirit. Iyengar Yoga, founded by Yogacharya B. K. S. Iyengar, is a form of Astanga Yoga. Iyengar Yoga can be practiced by all: young and old, flexible and inflexible, experienced and beginning.
Iyengar Yoga stresses that the path to this union - of body, mind, and spirit - is through the ongoing practice of asana (postures) and Pranayama (breath control), with a focus on alignment, precision, and detail in all poses. Mr. Iyengar codified over 200 classical yoga asanas and 14 types of Pranayama, which range from basic to advanced. In 1975, Mr. Iyengar founded the Ramamani Iyengar Memorial Yoga Institute (RIMYI) in Pune, India. Mr. Iyengar wrote many books on yoga and its therapeutic benefits, including the popular Light on Life, his reflections from a lifetime of intense yoga practice.
About IYNAUS
The Iyengar Yoga National Association of the United States (IYNAUS) is the U.S.-based source on Iyengar Yoga and the Iyengar Yoga method. IYNAUS is a nonprofit member organization that disseminates and promotes the art, science, and philosophy of yoga according to the teachings of B. K. S. Iyengar. Additionally, the organization oversees teacher training and certification and maintains a code of ethics for those teachers. IYNAUS produces and sponsors a variety of resources for Iyengar students and teachers, including a newsletter, conventions and conferences, a store, an archive of Iyengar Yoga materials, and a national directory of Certified Teachers.
###