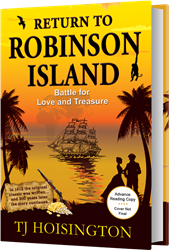 Seattle, WA (PRWEB) December 10, 2014
Based on the original 1812 Swiss Family Robinson novel, "Return to Robison Island" picks up where Johann David Wyss left off over 200 years earlier. Author TJ Hoisington also penned the international best seller, "If You Think, You Can!: Thirteen Laws that Govern the Performance of High Achievers."
In "Return to Robinson Island," it has been 15 years since the Robinson family was shipwrecked on a remote island in the East Indies. Ernest Robinson is 27 years old and a 1st Lieutenant in the British Royal Navy. When Ernest's commanding officer, Captain Charlie, is court-martialed for war crimes, Ernest is forced to tell the truth even if his testimony results in the imprisonment of his former Captain.
When reports that a vast treasure trove has been found on Robinson Island reaches England, the family finds themselves in mortal danger when Captain Charlie vows to retrieve the treasure and wreak revenge on the entire Robinson family. Will the Robinson Family survive this latest attack? One thing is certain; they won't give up the island – or the treasure – without a fight!
What ensures is a page turning, action packed thriller in which the Robinson Family must band together to safeguard both their island and their treasure. Readers will find that "Return to Robinson Island" includes vital facts from the original story, but it is not necessary that readers be familiar with those details.
Currently, "Return to Robinson Island" is available for review, and interested media professionals, booksellers, reviewers and other industry professionals are encouraged to contact the author. Literary agents are also encouraged to email TJ Hoisington and Team at info(at)swissfamilyreturns(dot)com.
About "Return to Robinson Island"
"Return to Robinson Island" continues the much beloved Swiss Family Robinson novel, picking up the story 15 years after the Robinson family first became shipwrecked. It is based exclusively on the core story elements of the 1812 Swiss Family Robinson novel. Author TJ Hoisington is the author of the international bestseller, "If You Think, You Can!: Thirteen Laws that Govern the Performance of High Achievers." TJ is also the author of "If You Think You Can for Teens" and "The Secret of the Slight Edge."
Release Date: T.B.A.
More information can be found at:
http://www.swissfamilyreturns.com/ and
https://www.facebook.com/returntorobinsonisland
#swissfamilyreturns
Contact Person: Sarah Martin
Phone Number: 877-211-6983 ext. 3
Email Address: info(at)swissfamilyreturns(dot)com