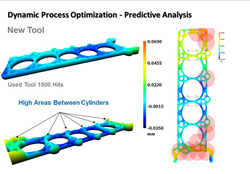 Ann Arbor, Michigan (PRWEB) December 10, 2014
Florida State University, University of Michigan and Coherix are collaborating with a major automotive OEM to optimize the machining parameters for the new compacted graphite iron (CGI) engine blocks going into their new trucks. Powerful ShaPix3D® technology provides high-definition (HD) data and enables full surface modeling and analysis to determine the optimal machining characteristics when machining this extremely hard material.
Based on this technology and analysis, the project will help the OEM make rational decisions on a number of critical process operations in addition to surface quality inspection. These operations significantly impact production cost and scrap rate including the detection of abnormal tool wear, determination and extension of tool change cycles, root cause diagnosis of defective surfaces, performance assessment for the assembly of engine heads and engine blocks, and establishment of machining process baseline in the new plant. The ShaPix data can provide new insights into a machining process and allow for inference on process condition from surface HD data, thus availing a cost-effective tool for the plant to make on-time decisions.
The project is also being supported by National Science Foundation with the aim to demonstrate the significance of surface shape and HD data in powertrain production. The findings and results of this project will be generalized and disseminated across US automakers, thereby reducing scraps/wastes and increasing their competitiveness.
Coherix designs and delivers high-speed, high-definition, 3D metrology and inspection tools for product development and the management of manufacturing processes for the precision manufacturing and semiconductor industries. Headquartered in Ann Arbor, Michigan the company has technical centers in Europe and the Asia Pacific region. Coherix products are being utilized around the world at companies such as ASE, SPIL, Marvell, BorgWarner, Ford, Honda, Allison Transmission, Chrysler, General Motors, Micron, Infineon, John Deere, Volvo Technology Transfer and Aisin among others.