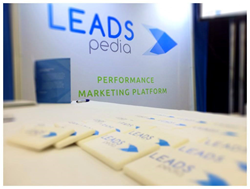 LeadsPedia gives any lead generator, affiliate network, advertiser, mobile marketer, or telemarketer a unified solution to monitor the effectiveness of performance marketing efforts.
Franklin, Tennessee (PRWEB) December 11, 2014
LeadsPedia, the SaaS-based marketing technology company, will be exhibiting new features and functionality as a Platinum Sponsor at the 2015 Affiliate Summit West in Las Vegas, NV.
The LeadsPedia platform brings a suite of technology together for Networks, Advertisers, Publishers, Lead Generators, and Mobile Marketers into one inclusive technology. This real time comprehensive platform helps unify business and marketing functions to connect data like never before. Normally isolated data now comes together to provide clarity and simplicity to the complex world of multi-channel online advertising. By understanding the digital customer journey from acquisition to conversion, businesses can maximize processes, solutions and growth. The LeadsPedia Platform makes business and marketing functions easier as well as offers industry-leading security with HIPAA compliant IT infrastructure.
LeadsPedia is more than a technology. For customer success, LeadsPedia provides 24/7 bilingual support through phone, email and chat for all clients. From experts to rookies in the industry LeadsPedia assigns a dedicated account manager that provide training, implementation and answer technical questions.
Meet the LeadsPedia team at Affiliate Summit West from January 18th-20th to see how LeadsPedia's technology allows marketers to track campaigns, capture and deliver data, assign attribution, get predictive recommendations, and stream marketing activities. The Meet Market begins on January 18th where the LeadsPedia Team will be at table #113 and during the show starting January 19th at booth #4001.
Join in on the conversations on LinkedIn, Facebook and Twitter: @leadspedia.