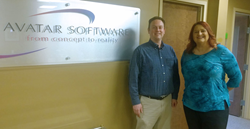 (PRWEB) December 10, 2014
Nashville, TN: Avatar Software (http://www.avatar-soft.com) announced today that Elonka Dunin will be joining the team as a senior producer for Black Gate Games, Avatar Software's new game development studio.   
Dunin brings over two decades of gaming experience to Avatar Software.  As a lifetime member of the International Game Developers Association, Chairperson Emerita and a founding member of the IGDA's Online Games SIG and co-director of the Global Game Jam, Dunin has an established presence in the gaming industry. During her time as Executive Producer at Simutronics in St. Louis, she was involved with the creation of many award-winning multiplayer, social, casual, and mobile games.  
When asked about the opportunity to work for Avatar Software, Dunin said: "It's very exciting to be working for a brand new game studio. Building something from the ground up is always so great to be involved with, and watching the games come to fruition is phenomenal.  I'm excited to bring John Gould's vision of a game studio to life, adding a line of entertainment products to Avatar's existing strong line of products and services."
Before going into game development, Dunin studied Astronomy at UCLA and then joined the U.S. Air Force where she worked on such prestigious aircraft as the SR-71 and U-2. Along with game development, Dunin is also known for her interest in cryptography. She has written several articles and books on the subject and assisted bestselling "Da Vinci Code" author Dan Brown with the research for his novels, such that Brown named one of his characters after her ("Nola Kaye" in "The Lost Symbol" is an anagrammed form of "Elonka"). Dunin led the team that cracked the codes on the Cyrillic Projector in Charlotte, North Carolina, and is now leading the charge to decode the encrypted Kryptos Sculpture at the CIA.  
Avatar Software, LLC was founded by CEO John Gould in Nashville, Tennessee in 2003 and has proudly served the IT and business community ever since. Avatar has a proven track record assisting clients to achieve their business initiatives by defining, developing, and implementing custom software solutions. Avatar's business professionals and developers offer experience in Software Development, Software Development Lifecycle, Microsoft SharePoint Development and Consulting, Web-Based Applications, and Mobile Device Development. Gould, who is an avid gamer and has built mobile game demos for talks in Baltimore, New York, and Atlanta, decided to create Black Gate Games in October 2014 to bring game development to the forefront of Nashville's already strong entertainment industry. For more information about Black Gate Games, or working with or for Avatar, please email info(at)avatar-so