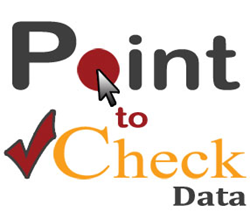 'I had the opportunity to test Coach One Evaluation System as a Teacher, Coach & Evaluator. I Love It! This system has helpful tools that support coaching teachers achieve their classroom goals.' -Tanisha Valcarcel, Team Leader West Broward Academy
Fort Lauderdale, Florida (PRWEB) January 06, 2015
To meet the law requirement challenges of today's educational institutions, Point to Check Data, LLC has created the Coach One Evaluation System®. An easy Educator growth vehicle built around a range of sources, including state standards (FEAPs) data, classroom observation, professional development plan and simple coaching collaboration practices that help to demonstrate an Educator's growth and classroom performance. Coach One Teacher Evaluation System was designed to accommodate individual grade levels and subjects while maintaining the Educator's common language throughout each task. This evaluation system has three main objectives: (1) provide a reliable and stable State and District-wide method to evaluate educator personnel, (2) simplify Educators' and Administrators' performance data, and (3) achieve substantial learning growth among Administrators, Educators, and most importantly Students.
What Are the Challenges Facing Educators Today? Educators, today, are looking for fair and time-saving performance evaluations using an easy to follow blueprint and an effective way of learning from stronger and more knowledgeable peers. It is critical that the quality of teaching represents a set of knowledge and skills that reflects the best abilities available through individual professional development. Learning should be an achievement not a sign of deficiency. With time and money constantly running scarce in the education realm, the right evaluation tools can make the difference between better student engagement, academic achievement, student growth and properly prepared Educators.
Coach One Evaluation System® works to aid developing Educators by promoting a coaching style strategy utilizing stronger more experienced Educators to create in school professional learning communities for better and faster learning while helping to save the school system time and money. It is intended for Educators to thrive and excel by mapping out future training and producing improved teacher learning and more importantly helping and strengthening the growth of our students.
"As an administrator and an educational leader, in the last few years, I saw an essential need to fill a significant gap in the fair quantitative evaluation of teaching. Coach One Evaluation System® enables Educators to interact with one another over simple channels and throughout an Educator's career by way of personalized developmental strategies. Schools can attain higher grades, raise their student achievement levels and give their Educators a comfortable yet powerful way to grow." - Raul Baez, Principal.
Last fall Coach One Evaluation System® was tested by multiple schools in Florida and found this form of "Performance Tuning" helps to give Educators an unbiased but intimidation-free method for advancement in their existing position. Coach One Evaluation System® was approved by The Leadership and Learning Center, a division of Houghton Mifflin Harcourt (HMH): Teacher & Principal Evaluation Plan Review panel for Florida Department of Education. This system aligns with and supports the necessary established criteria for State requirements as mandated by Florida State Law Statute 1012.34(1)(a), F.S.
About Point to Check Data, LLC: Point to Check Data, LLC's sole purpose is to provide easy to use online services for developing educational institutions and their staff. The goal is simple, to create a level playing field for all levels of education and to produce higher achieving and more effective Educators in the classroom. Today's students are tomorrow's leaders, inventors, and skilled professionals. In essence, Educators are extremely important to our youth's future and Point to Check Data, LLC is here to insure that they are given every tool and opportunity to help in their students' growth.