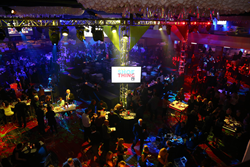 "The footwear community really takes care of its own, especially when emergency calls have increased 155% in recent years." - Neal Newman, President, Two Ten Footwear Foundation
Waltham, MA (PRWEB) December 10, 2014
As part of its 75th Anniversary, Two Ten Footwear Foundation today announced that its newly formatted gala, chaired by Ken Hicks, Executive Chairman of the Board at Foot Locker, raised a record $2.7 million from corporate and individual contributions. Held December 2nd at the Marriott Marquis Times Square in New York, the gala brought the community together in an evening of footwear philanthropy and celebration – in an entirely new format.
This year's festivities included two events; a sit-down dinner and auction for 350 followed by an industry-wide gala – featuring music, cocktails, delicious food and fun ways to engage with Two Ten and the footwear community at large. The combined events were attended by 1,600 shoe people.
"Foot Locker has enjoyed a long-standing partnership with the Two Ten Footwear Foundation," remarked Ken C. Hicks, Executive Chairman of the Board, Foot Locker, Inc. "We are proud to have been an integral part of this year's event, which resulted in a record-breaking year of fundraising, furthering our continued support and contribution to the ongoing mission of shoe people helping shoe people."
"Tremendous thanks goes to Ken Hicks, our gala chair, along with all the committee members who worked so hard to make the event a smashing success," said Neal Newman, President of Two Ten Footwear Foundation. "Raising money is difficult in any economy, but the footwear community really takes care of its own, especially when emergency calls have increased 155% in recent years."
A highlight of the evening was the presentation of the prestigious Bob Campbell Lifetime Achievement Award to Tim O'Donovan, retired Chairman and CEO of Wolverine Worldwide. O'Donovan has actively served on the Two Ten Board for 23 years, including two years as its Chairman, and currently as the tri-chair of its Honorary Board.
Two Ten 2014 Highlights
Over the past year, Two Ten has impacted the footwear community by:

Distributing $1.5 million to footwear families in crisis.
Awarding $800,000 in higher education and professional development scholarships to 322 members of the footwear community.
Providing counseling and referrals to local community resources for additional assistance.
Uniting 100 footwear companies and over 6,500 footwear volunteers across the country in an industry‐wide community service program called Footwear Cares®, sponsored by Amazon Fashion, helping local charities serving families and communities.
Launching the National Shoe Travelers (NST) Scholarship Fund, an endowed scholarship fund earmarked for NST members, their children and their grandchildren.
Hosting networking and development opportunities to thousands working within footwear through career affinity group meet‐ups, conferences, mentoring programs and special events.
To see video and photos from the 75th anniversary celebration or for additional information about Two Ten Footwear Foundation initiatives, please visit http://www.twoten.org.
About Two Ten Footwear Foundation
During 2014, Two Ten is proudly celebrating its 75th anniversary as the footwear industry's national charitable foundation – the only foundation of its kind in the United States. Two Ten is committed to providing the help and resources needed to change the lives of footwear professionals and their families.