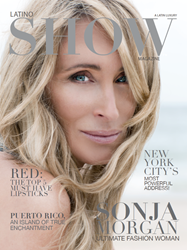 Sonja Morgan wears one of her evening gowns from Sonja Morgan New York fashion collection set to debut Spring/Summer 2015
(PRWEB) December 09, 2014
Real Housewives of New York City star Sonja Morgan and Latino Show Magazine are celebrating Sonja Morgan's cover of Latino Show Magazine "The Anniversary Issue".
In the issue Sonja Morgan wears one of her evening gowns from Sonja Morgan New York fashion collection set to debut Spring/Summer 2015. Her capsule collection will have ready to wear, sportswear, evening wear and swimwear as well as a jewelry line.
The event will take place on Wednesday, December 10, 2014 from 6:00PM - 8:00PM with the Red Carpet beginning at 6:00PM. It will be held at Vanessa Noel Couture located at 158 East 64th Street between Lexington and Third Avenues in New York, New York.
Confirmed guests include Carol Asscher, Vanessa Noel, Gigi Grimstad, Victoria Vicuna, Lucia Hwong Gordon, Minnie Osmena, Jason Roberts (ABC's The Chew), Michael Lorber (Million Dollar Listing NY), Domenick Persy (Model, Sonja Morgan's 24 year old boyfriend), Malan Breton (Fashion Designer), Omar Shariff Jr (GLAAD National Spokesperson), Wendy Madden, Marco Maranghello (Miss Universe Pageant Hair Stylist and Board Member), Phillip Bloch (Celebrity Stylist), Jean Shafiroff, George Wayne (Vanity Fair), Chiu-Ti Jansen (Best Dressed List and Publisher Yue Magazine), Aleta St James (Celebrity Healer), Thomas John (Celebrity Psychic), Leesa Rowland, Francky Official (Victoria's Secret Runway Hairdresser)
Coctails with be served by Jose Cuervo Tequila, Three Olives Vodka, Zio Baffa Pinot Grigio, Freixenet Spanish Cava, and Heineken Brewery Beers. Hors d'oeuvre and service will be provided by Aneu Catering and Special Events.
For More information contact Domenick Nati at DNati(at)NatiCelebs.com
About Sonja Morgan
Long before Facebook connected the world, Sonja Morgan was connecting the A-list international-Who's Who, forging lasting friendships and successful business associations among the high rollers and jet-set crowd. The transformation from her humble upbringing in upstate New York to an international style icon and marketing guru is an inspirational story of success. She is a lifestyle authority for the rich and famous and an ever evolving phenomenon.
While studying at the Fashion Institute of Technology, Sonja also worked as a model and actress which propelled her from savvy student to an international personality, working between Milan, Paris, and New York. After pursuing high end fashion retailing and wholesale in New York City's Garment District, Sonja became a sought after luxury brand consultant, orchestrating successful ventures with clients such as Donald Trump at The Plaza Hotel and Jean Denoyer. Her International client-base relied on the expertise and guidance she provided. Whether representing an Italian fashion house or consulting a new hot spot, Sonja was known as the go-to "it-girl."
Never one to back down from a challenge, Sonja's tries her hand at many interesting creative projects that feed her entrepreneurial spirit. Sonja in the City is her special events company that has hosted many charity events for non-prots that she is passionate about. Sonja Productions LLC, produced a multi-million dollar lm, The Marsh, starring Oscar winner Forest Whitaker and Gabrielle Anwar and she joined the cast of The Real Housewives of New York City in 2007 which is one of BRAVO network's most successful commercial vehicles, syndicated in 134 countries.
Certainly not the least of Sonja's key priorities is that of being a dedicated mother to a bright young daughter. And now, Sonja has teamed up with an accomplished team of business, marketing and design professionals to launch her lifestyle brand - Sonja Morgan New York. Inspired by her famous sense of style, classic with a sexy twist - her new collections of ready-to-wear, sportswear, swimwear, evening and ne jewelry are aspirational and timeless, providing consumers the chance to own a piece of Sonja that is accessible, high quality, and long lasting lling a void in the fashion market for everyday luxury.