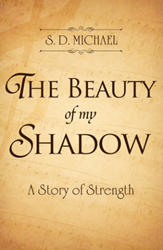 I would never have opened up to talk about a challenging experience in my life unless I could do so in a way that would help others.
Ottawa, Ontario (PRWEB) December 09, 2014
In the blink of an eye, a person's entire existence can change forever. The news reminds viewers all too often about the impermanence of life. Surviving nearly fatal-injuries, author S.D. Michael reminds readers there is life after tragedy.
"The Beauty of My Shadow" is the inspiring memoir of author S.D. Michael telling her story of almost being killed in a car accident when she was a teenager at the hands of a drunk driver. With wisdom, grace and humor, Michael recounts the aftermath of her injury and her personal, medical and emotional struggles to win back the happiness taken from her.
As an adult, Michael beautifully discusses the impact on her family and friends, the lasting physical trauma and the pain of deferred dreams.
Most importantly, "The Beauty of My Shadow" serves as a reminder to those affected by similar trauma, or those struggling with the challenges of daily life, that while adversity derails our path in life, undefeatable perseverance often helps us discover an alternative route to take.
Complete with an accompanying music CD, performed by pianist Mark Ferguson, "The Beauty of My Shadow" is a unique experience that will tug at many different emotional chords. A percentage of author royalties from the sale of this book are donated to charity.
"I would never have opened up to talk about a challenging experience in my life unless I could do so in a way that would help others," Michael said. "I decided to have a pianist perform and created the CD 'Songs for Everyone' to help raise money for the advancement of education."
For more information, visit anaid.org or authorhouse.com
"The Beauty of My Shadow"
By: S. D. Michael
ISBN: 978-1-4969-4514-3 (softcover), 978-1-4835-1184-9 (e-book)
Available in softcover ($19.95), e-book ($9.99)
Available on Amazon, Barnes & Noble, Wal-Mart Canada, Chapters Indigo and AuthorHouse
About the author
Samantha Michael was born in Ajax, Ontario. An ambitious student on the verge of beginning university, her life was unexpectedly and permanently altered when in 1991, she suffered near-fatal injuries as the passenger in a single-car accident caused by a drunk driver. Today, Samantha serves on the board of the Ontario-based non-profit, "An Aid to Help Foundation." Additionally, she has assisted the National Arts Centre since 1999 as a volunteer. Other books by Samantha Michael include "The Butterflies Above My Bed" and "The Princess in Pink: A True Tale." The fairy tale is a children's version of her story with "Songs for Everyone" being an accompanying soundtrack as well.
# # #
**FOR IMMEDIATE RELEASE**
For review copies or interview requests, contact:
Daniel Pearson
317.602.7137
dpearson(at)bohlsengroup(dot)com