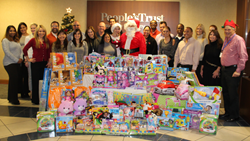 Deerfield Beach, Florida (PRWEB) December 12, 2014
In its fourth year participating with Toys for Tots, People's Trust Insurance announced its largest collection of gifts yet: more than 300 toys have been collected to benefit less fortunate children throughout Broward County. This year, People's Trust doubled up on its important role, hosting a drop-off site by housing a collection box.
In addition to serving as a drop-off location to their employees to bring toy donations, People's Trust donated $1,800 in toys, another $500 worth of bicycles and $250 in Cuddle Covers. People's Trust has been an enthusiastic supporter of Toys for Tots throughout most of the company's existence.
"Broward County is our home, and all of us at People's Trust recognize the importance of giving back to the community," said George Schaeffer, the company's Chairman and Chief Executive Officer. "Toys for Tots enables less fortunate children to experience the joy of this season, and we proudly embrace the cause."
The Toys for Tots program, run by the U.S. Marine Corps Reserve, collects new, unwrapped toys from October though mid-December. Coordinators then collect the donated toys and sort them by age and gender. During the Christmas holiday season, local community and philanthropic organizations distribute the toys to the less fortunate children of the community.
In addition to helping children enjoy the holidays, Toys for Tots unites members of the community in a common cause while helping countless youngsters become responsible, productive, patriotic citizens.
About People's Trust Insurance Company
Founded in 2008, People's Trust Insurance Company is a Florida-based home insurance company established to bring stability and affordability to an insurance market that has been plagued by uncertainty. Honored with the 2013 Enterprise Florida Governor's Innovators in Business Award, People's Trust offers a better solution for more than 130,000 policyholders throughout Florida by embracing an ethic of preparedness and rapid response, providing the greatest value and a simplified recovery experience to our policyholders.
About Toys for Tots
The mission of the U. S. Marine Corps Reserve Toys for Tots Program is to collect new, unwrapped toys during October, November and December each year, and distribute those toys as Christmas gifts to less fortunate children in the community in which the campaign is conducted. Local Toys for Tots Campaign Coordinators conduct an array of activities throughout the year, which include golf tournaments, foot races, bicycle races and other voluntary events designed to increase interest in Toys for Tots, and concurrently generate toys and monetary donations.