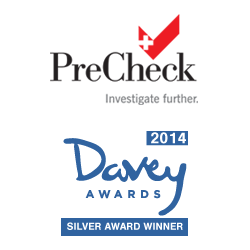 2014 has been an incredibly successful year for PreCheck's Marketing department and we are honored to be recognized in this year's Davey Awards
Houston, TX (PRWEB) December 11, 2014
PreCheck, an employment and background screening firm specializing in the healthcare industry, recently received a 2014 Silver Davey Award by the Academy of Interactive and Visual Arts (AIVA). For the category of Content, The PreCheck Blog was recognized as a winning entry based on its editorial content discussing employment screening best practices for healthcare employers as well as other key issues affecting the healthcare industry.
The Davey Awards are judged and overseen by the AIVA, a 600+ member organization of leading professionals from various disciplines of the visual arts dedicated to embracing progress and the evolving nature of traditional and interactive media. "This year's Davey Award winners truly embody the idea of small firms with big ideas," noted Linda Day, Executive Director of the Davey Awards. "The work entered into this year's competition reflects a smart approach to creativity that highlights the capabilities and talents of small agencies worldwide."
This award reflects PreCheck's continued dedication to their clients and the healthcare industry. "2014 has been an incredibly successful year for PreCheck's Marketing department and we are honored to be recognized in this year's Davey Awards," stated Bryan Barajas, Marketing Director at PreCheck. "I'm passionate about educating our healthcare audience through our resources such as our white papers and our multi-award winning blog. I feel privileged to be part of a team that continually reaches new levels of excellence in our work."
The Marketing team also includes Gracie Gonzales, Associate Creative Director, and Antique Nguyen, Marketing Specialist. The PreCheck Blog also features articles written by members of other departments, including Product Management, Operations, and Client Services. PreCheck's blog covers background screening best practices with a healthcare focus as well as the latest healthcare trends and compliance issues.
To learn more about PreCheck's healthcare-focused suite of employment background screening services, visit http://www.precheck.com.
About PreCheck, Inc.
Founded in 1983, PreCheck, Inc. has focused exclusively on serving the healthcare industry's background screening and employment qualification needs since 1993. PreCheck serves over 3,000 hospitals, long-term care facilities, clinics, educational institutions, and other ancillary healthcare organizations, across the U.S. PreCheck has evolved over time from a background screening provider into a turnkey outsourcing solutions provider, offering a full suite of background screening, compliance, and credentialing solutions all designed to help its clients adhere to the complex laws and regulations governing the healthcare industry. Based in Houston, PreCheck was recognized as a 2013 and 2014 Inc. 5000 company and has achieved Background Screening Credentialing Council Accreditation by the National Association of Professional Background Screeners.
http://www.precheck.com
About The Davy Awards
The Davey Awards exclusively honor the "Davids" of creativity, the finest small firms, agencies and companies in the world. David defeated the giant Goliath with a big idea and a little rock - the sort of thing small firms do each year. The annual International Davey Awards honors the achievements of the "Creative Davids" who derive their strength from big ideas, rather than big budgets. The Davey Awards is the leading awards competition specifically for smaller firms, where firms compete with their peers to win the recognition they deserve. Please visit http://www.daveyawards.com for more information.