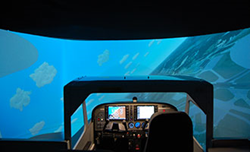 Lynchburg, Va. (PRWEB) December 09, 2014
As of December 2014, the Liberty University School of Aeronautics has become one of the first aviation programs in the country to upgrade its entire fleet of Cessna 172 flight simulators to Level 5 Flight Training Devices (FTDs) and subsequently receive FAA certification as part of the National Simulator Program. This certification is held by only six other universities in the nation.
The improved technology of the upgraded simulators offers a more realistic flight-training environment for students. The accuracy of the simulation reduces training costs by allowing students to increase their proficiency in a wider array of flight skills without ever leaving the ground.
"The new FAA certification validates that the simulator resembles the flight, visual, and avionic dynamics of the actual aircraft," said Kevin Martin, School of Aeronautics simulator manager. "We are very excited to work with the manufacturer FRASCA International in upgrading our devices to this high caliber. The FAA National Simulator Program (NSP) inspectors were very impressed with the quality of the simulator program and the devices themselves."
The upgraded simulator technology is just one of many initiatives within the School of Aeronautics to maintain and grow its reputation as one of the premier aviation programs in the country.
About Liberty University
Liberty University, founded in 1971, is the largest private, nonprofit university in the nation, the largest university in Virginia, and the largest Christian university in the world. Located near the Blue Ridge Mountains on more than 7,000 acres in Lynchburg, Va., Liberty offers more than 450 unique programs of study from the associate to the doctoral level. More than 200 programs are offered online. Liberty's mission is to train Champions for Christ with the values, knowledge, and skills essential for impacting tomorrow's world.