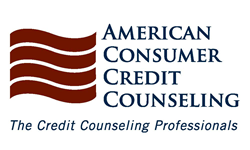 The convenience and in-store savings of using plastic for purchases always comes at a price. Come 2015, many consumers may be feeling the effects of a holiday shopping debt hangover.
Boston, MA (PRWEB) December 17, 2014
Today, leading financial education nonprofit American Consumer Credit Counseling provides consumers with tips to commit to a cash-only holiday spending season. This announcement comes amid an increase in holiday shopping once again this season, and while many consumers will be tempted to swipe credit cards rather than pay in cash to take advantage of increased retailer perks. However, given that, on average, the interest rate for a credit card comes to almost 15 percent and the average retail credit card boasts an APR more than 23 percent, these credit-reliant consumers may be spending much more than they believe to be saving this holiday season.
"Americans appreciate convenience and a good perk, especially around the holidays when many retailers boast added savings with store credit cards," said Steve Trumble, President and CEO of American Consumer Credit Counseling. "However, the convenience and in-store savings of using plastic for purchases always comes at a price. Come 2015, many consumers may be feeling the effects of a holiday shopping debt hangover."
ACCC takes into consideration why it might just be better to pay with cash, and save those credit cards this holiday season:
No matter what is purchased with a credit card, there will always be a balance. Regardless of how little or how much is spent, there are minimum payments that must be made on credit cards for any purchase. With interest rates at a high, consumers can expect to pay $15 dollars or more for every $100 spent. If this same purchase was made with cash, consumers can realize a savings of 15 percent. The only other way to avoid the interest is to pay off the balance in full.
Additionally, unlike credit, there are no hidden or long-term fees when paying with cash. Because credit card statements provide a minimum payment amount, more often than not consumers end up paying much more money over a significantly longer period of time. Take for instance a consumer who puts a $1,000 balance on the average retail credit card with an APR of 23.3 percent. If only minimum payments are made, that consumer would need 73 months to pay off the balance and would incur $840 in interest fees.
Often times when people apply for credit cards, they aren't sure of what they're getting into. People carelessly look over contracts and all of a sudden become bogged down with fees and get tricked by gimmicks. Understanding the full terms of the contract can save consumers both time and potentially, a whole lot of money. Ask questions such as, Is there an introductory rate that will increase after a period of time? Is there an option to immediately pay off the balance? What are the annual fees? Are there perks that come with this card? And as with every hard credit inquiry into a consumer's credit history, the credit score will be impacted. These are all questions and considerations that should be answered before signing on the dotted line.
There is also the physical consideration to make. When you're swiping a piece of plastic, consumers are unable to tangibly feel money leaving their pocket. But if a consumer starts the day with $100 in cash, and at the end it's gone, they are more likely to feel the physical loss of money.
In addition, there are personal information benefits that come with sticking to cash. A consumer is less likely to be targeted by marketers that ask for additional information like a zip code or email address and less likely to part of a data breach.
"There are certain situations that require the use of a credit card, and in the end, the most important thing to do in managing your money is to make sure to keep track of your funds and be financially aware," said Trumble.
If you are considering committing to a cash only holiday, American Consumer Credit Counseling has provided the following tips:
1. Set a holiday budget and consider everything you would spend during the holidays including wrapping paper, tape, decorations, parties, etc.
2. Set a gift limit depending on your cash only holiday budget.
3. Don't buy gifts just to buy; get a list of potential gifts and purchase according to your gift limit.
4. Shop around and look for the best deals that will meet your cash only gift limit.
5. Purchase one gift at a time if that works best for you. It may take longer to get your shopping completed, but at least you are staying within your budget and not using credit.
American Consumer Credit Counseling, a nonprofit organization dedicated to helping consumers achieve financial health through education, counseling, and debt management, offers free financial workshops on topics ranging from budgeting to credit to identity theft.
ACCC's certified and experienced counselors offer a variety of financial education, counseling and debt management services to help consumers achieve long-term financial health and stability. These financial education programs help consumers to better understand and manage their finances. ACCC's holiday spending poll is the first in a series of planned monthly polls related to budgeting and spending habits, intended to help consumers recognize their budgeting needs. ACCC plans to post these polls and the results on their website and Facebook page.
ACCC is a 501(c)3 organization, that provides free credit counseling, bankruptcy counseling, and housing counseling to consumers nationwide in need of financial literacy education and money management. For more information, contact ACCC:

For credit counseling, call 800-769-3571
For bankruptcy counseling. call 866-826-6924
For housing counseling, call 866-826-7180
For more information on financial education workshops in New England, call 800-769-3571 x1980
Or visit us online at ConsumerCredit.com
About American Consumer Credit Counseling
American Consumer Credit Counseling (ACCC) is a non-profit 501(c)(3) organization dedicated to empowering consumers to achieve financial health through education, counseling, and debt management. ACCC provides individuals with practical solutions for solving financial problems and recognizes that consumers' financial difficulties are often not the result of poor spending habits, but more frequently from extenuating circumstances beyond their control. As one of the nation's leading providers of financial education and credit counseling services, ACCC works with consumers to help them with the best plan of action to reduce their debt and regain financial stability. ACCC is accredited by the Better Business Bureau and holds an A+ rating. It is also a member of the Association of Independent Consumer Credit Counseling Agencies. For more information or to access free financial education resources log on to ConsumerCredit.com or visit TalkingCentsBlog.com. Follow ACCC on twitter @TalkCentsBlog.