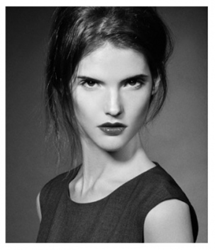 I was very determined to succeed, no matter the cost.
Atlanta, GA (PRWEB) December 11, 2014
At sweet 16, Actors, Models and Talent for Christ Grad Gabrielle Fitch began to live a dream job. She became a model, starting in Dallas, moving to New York and ending in London. Now 21, Gabrielle shares a different story with AMTC: one of survival from the nightmare of anorexia. At her lowest weight, the 5'11" beauty shrank to 70 pounds. Doctors said brain damage and death were imminent. After conducting a recent interview with Gabrielle, AMTC announces that she will begin sharing her overcoming story with the world.
Miraculously, after a 2-year battle the deadly disease, Gabrielle has recovered. Now she is ready to warn others about this sneaky killer. When discussing how it began, she said, "I saw these models with 23-inch wastes booking jobs. So I wanted a 22-inch waste. It was a cycle of thinking the skinnier I am, the prettier I am, and the more successful I will be."
Gabrielle's career began after attending the Actors, Models & Talent for Christ SHINE Conference in 2010. When she turned 18, she traveled to New York and received contract offers with three top modeling agencies. The one Gabrielle chose told her to lose weight. But a little became a lot: "I was very determined to succeed no matter the cost."
AMTC counseled Gabrielle to change agencies, and her new agency actually told her to gain weight. But she was too far in, and her eating disorder intensified. Gabrielle said, "I would exercise all day long and eat 500 calories, if that." Gabrielle got dangerously thin and was sent home.
After returning to Texas, Gabrielle went into rehab, and a two-year life and death battle began. She would gain a little, but lose more. She ended up at Baylor Hospital. Doctors told Gabrielle she was near death. "That was a wake-up call for me," she says: "the fact that I was actually dying." She made a choice to be put on a feeding tube.
But the root of anorexia goes deeper. It's in the mind and the soul. Gabrielle says she owes her recovery to God and to the support she received from family and friends, including the Prayer Team at Actors, Models and Talent for Christ. "All of the encouragement, prayers and fasting that AMTC poured into me are what helped me make it through," she says. 
Now a healthy weight, Gabrielle's mission is to share her story: to inspire others struggling with similar disorders. She encourages girls who want to model. "Go for it. Follow your passions, but just watch what you are doing and be very careful not to fall into the traps of anorexia," she says.
Her fellow AMTC model grads join the battle to bring light to eating disorders. Austen Williams (Mrs. America 2014), Kim Baldwin Turner, and Philipa Booyens form a trio called INsight. As young women who grew up in the entertainment industries, they share their trials and successes: how they overcame peer pressure and the influence of media.
In addition, Emily Hyland Dean, a former model who faced similar challenges, founded the company Verity Varee, which exists to 'promote a message of truth about beauty.' 
Read more of AMTC's recent interview with Gabrielle at http://www.amtcworld.com/the-results/real-life-stories/gabrielle-overcoming-anorexia.
For more information on Gabrielle Fitch or to schedule an interview, please contact pr(at)amtcworld(dot)org.
###