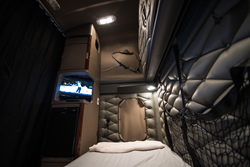 San Diego, CA (PRWEB) December 09, 2014
EpicVue, the trucking industry's first and only premium in-vehicle satellite TV system packaged exclusively for fleets, today announced it has retained the services of LaunchIt Public Relations a niche firm focused on technology in the North American transportation market.
"Trucking companies are addressing the driver shortage by providing as much comfort and convenience as possible while on the road," said Lance Platt, CEO of EpicVue. "Satellite TV can make trucks feel more like home for drivers during downtime for mandated rest periods and while waiting for shippers to load and unload their vehicles. With LaunchIt's expertise, we can effectively deliver the message that an affordable satellite TV service can help fleets attract and retain drivers."
The EpicVue service for fleets brings more than 100 channels of DIRECTV programming including premium channels such as HBO/Cinemax, Showtime and the NFL Sunday Ticket into the comfort of a driver's sleeper for a monthly subscription fee and without any upfront hardware costs. Previously considered a cost prohibitive solution for commercial truck drivers, EpicVue has packaged satellite TV for fleets with 20 or more vehicles for $49 per month under a five-year contract or $59 monthly for a three-year contract.
Included in the EpicVue package is a 24" flat screen TV, a DVR, an off-air antenna used to pick up local channels and an EpicVue designed and manufactured ruggedized satellite antenna for rear or top of cab.
"Having been a part of the initial launch of satellite communications for truckers over two decades ago, I was surprised a service like this didn't exist until now," said Susan Fall, president of LaunchIt. "Considering how the trucking industry is addressing the driver shortage by investing in a variety of comfort and convenience technologies, it seemed like satellite TV would be common in sleeper equipped trucks. If you can watch live satellite TV on a plane you'd think it would be something truckers on the road could easily enjoy too. By providing long haul drivers with the same viewing options that exist at home EpicVue could very easily become one of those game changing technologies that dramatically improves the driver's quality of life."
About EpicVue
In 2013, two companies experienced in trucking and satellite TV technology merged to become EpicVue. With the understanding that television often fulfills the human need for connection and helps to counteract loneliness on the road or feelings of isolation, EpicVue designed a TV viewing package specifically for commercial fleets. Offering more than 100 channels of programming, including HBO, Showtime and NFL Sunday Ticket, the EpicVue satellite TV package is available for a monthly subscription fee and no upfront costs. For more information, visit http://www.epicvue.com.
About LaunchIt, Inc.
Founded in 2000, LaunchIt, Inc. specializes in representing transportation technology companies, increasing the visibility of their products and services in the business-to-business environment. Located in San Diego, California, LaunchIt has developed strategic relationships with other creative agencies as well as an experienced team of transportation industry experts. Through this network of experts, LaunchIt has grown from a strictly public relations firm into a full-service international sales and marketing firm. For more information, visit http://www.launchitpr.com.
Media Contact:
Susan Fall
LaunchIt Public Relations
858-490-1050
susan(at)launchitpr(dot)com