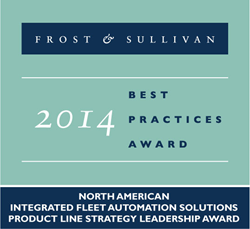 Through our FleetAtlas Framework, we provide customers with a complete solution to improve efficiencies across their business, from the field through to the back office.-Peter GibbsCEOTouchStar
Tulsa, OK (PRWEB) December 10, 2014
TouchStar™, a multinational provider of logistics Enterprise and Mobility software solutions, announced today that it has received Frost & Sullivan's 2014 Integrated Fleet Automation Solutions Product Line Strategy Leadership Award. The award represents TouchStar's leadership in providing comprehensive automation solutions to fleet organizations in the Upstream Oil & Gas market.
"We are very honored to receive this award," said Peter Gibbs, TouchStar CEO. "Through our FleetAtlas Framework, we provide customers with a complete solution to improve efficiencies across their business, from the field through to the back office. FleetAtlas enables our customers to begin the automation journey at a point they're comfortable with and scale to more advanced automation when needed. We feel that is extremely valuable in today's market and are proud to have this recognized."
The FleetAtlas Framework is an integrated set of on-premise and SaaS solutions that improve efficiency and management of fleet and mobile workforce resources. With solutions spanning Telematics, Dispatch, Mobility, Compliance, Planning, and Business Intelligence; organizations can expand from basic GPS fleet tracking to comprehensive, automated accounting and route optimization within the singular framework.
"TouchStar is positioned as a key industry provider and market leader due to its well-developed FleetAtlas Framework, which systematically integrates data from multiple applications into one platform," said Frost & Sullivan Analyst, Paola Conti. "As a result, previously siloed telematics and dispatching data is now seamlessly integrated into one system that efficiently tracks business operations and extrapolates critical performance metrics that yields an overall analysis of the operations."
"This approach has proven to be very effective for companies in the Oil & Gas industry, where automating processes and collecting data at every step – from the well site and pick up to delivery at the terminal or offload site – is critical to improving operational efficiency," said Gibbs.
The report can be downloaded here.
About TouchStar
TouchStar is a leading multinational logistics and mobility software provider delivering solutions that meet the specific needs of the Oil & Gas, Field Service, Transportation, and Consumer Goods industries. With a 20 year history and systems worldwide, TouchStar provides cloud and on-premise solutions ranging from fleet tracking applications to comprehensive enterprise mobility and automated accounting solutions. Relied upon by organizations of any size, from many of world's largest energy, logistics, and field service companies through to smaller, localized service organizations, TouchStar's FleetAtlas framework is highly scalable and provides the foundation for a progressive automation journey. TouchStar is headquartered in Tulsa, OK with technology and support offices in Canada, Australia, New Zealand, Austria, and Germany. For more information, visit http://www.touchstargroup.com.