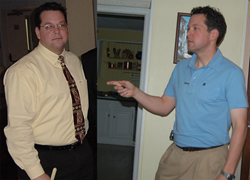 Diet Doc patients learn how to lose weight while still enjoying the holiday dishes and festivities without guilt or weight gain worry.
Dallas, TX (PRWEB) December 11, 2014
Because Phase I of Diet Doc's diet plans encourages patients to load up on high calorie, high carbohydrate foods, the holidays are the perfect time to set weight loss goals and begin dieting. This modern approach to weight loss teaches patients how to lose weight by boosting the metabolism with calorie loading while preparing the body to transition smoothly into ketosis, the process of seeking out and burning stored fat for fuel, which happens during Phase II of Diet Doc's weight loss programs.
Prospective dieters who want to learn how to lose weight with Diet Doc's calorie loading holiday diet plans can begin by completing a health questionnaire and scheduling an online consult with one of Diet Doc's fast weight loss doctors. And, because the company has partnered with Telemedicine, the consult and follow-ups can all be accomplished without costly, time consuming and embarrassing face to face visits to weight loss clinics and can be done from the comfort of the patient's own home.
During the initial consultation, the doctor will review and assess each patient's entire system to uncover the real reason for weight gain. This may include cellular toxicity, improperly functioning and sluggish organs or hormonal imbalances. These issues will be addressed and recommendations will be made for the most effective diet plan for each patient based on their age, gender, lifestyle and medical conditions. Each patient will receive a full, written report outlining the findings, as well as recommendations for the best method of weight loss.
Next, patients will work closely with certified nutritionists to discuss weight loss goals, eating habits and food preferences before designing meal and snack plans that teach patients how to lose weight by incorporating a wide range of delicious food choices and that are easy to follow and motivational. These diet plans may be combined with Diet Doc's specially formulated, pure prescription diet products, including hormone diet treatments, exclusive diet pills and appetite suppressants that help patients over the initial weight loss hurdles by staving off hunger, cravings and loss of energy.
Weekly checkup calls are scheduled at a time that is convenient for each patient to monitor progress and assess attitude and comfort level. This level of personal contact quickly alerts the doctors if weight loss tapers and enables them to modify the diet plans to reset the metabolism and return the body to fast fat burn mode.
Diet Doc clients are so successful because the meal and snack plans are appetizing and appealing while the fast weight loss is motivational. Patients typically begin noticing the loss of pounds and inches, particularly in the hard to reach areas, such as the belly, hips, thighs and buttocks, within days of beginning their diet. In fact, a recent in-house survey, of over 20,000 actual Diet Doc patients, revealed an average loss of 20 pounds per month while following the guidance of the Diet Doc experts.
Diet Doc's modern approach to calorie loading and weight loss incorporates the smart nutritional concepts of many successful diets with the company's pure prescription hormone diet treatments for the best weight loss possible. Diet plans are tailored for those who are struggling to lose that final 10-20 pounds to those who must lose 100 pounds or more. The company urges everyone, in any part of the country, to call today to schedule a personal and free consultation.
About the Company:
Diet Doc Weight Loss is the nation's leader in medical, weight loss offering a full line of prescription medication, doctor, nurse and nutritional coaching support. For over a decade, Diet Doc has produced a sophisticated, doctor designed weight loss program that addresses each individual specific health need to promote fast, safe and long term weight loss.
Diet Doc Contact Information:
Providing care across the USA
Headquarters:
San Diego, CA
(888) 934-4451
Info(at)DietDoc(dot)info
http://www.dietdoc.com
Twitter: https://twitter.com/DietDocMedical
Facebook: DietDocMedicalWeightLoss