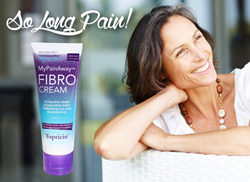 3% of the sales of MyPainAway Fibro Cream are donated to fibromyalgia research foundations.
Rhinebeck, NY (PRWEB) December 10, 2014
MyPainAway Fibro Cream, a new product patented for the topical treatment of pain associated with fibromyalgia, is now available exclusively at CVS pharmacies nationwide and its online store http://www.cvs.com.
Nearly four million Americans are affected by fibromyalgia, and 90% of those diagnosed with the condition are women. Symptoms include chronic, widespread pain in muscles, ligaments, and tendons; numbness and tingling; multiple tender points, fatigue; migraine headaches; and problems sleeping.
Research indicates people suffering nerve and joint pain have excess fluids and toxins that damage nerve and joint tissue. These fluids restrict blood flow and oxygen levels in the cells and disrupt the healing process. The disruption of the healing process and toxins irritating the nerves are significant contributors as to why people with fibromyalgia feel achy all over.
Formulated from a combination of natural biomedicines, MyPainAway Fibro Cream offers a vibrant new pain relief option for those suffering with fibromyalgia. Specifically formulated to address the issues causing the aches and pains of fibromyalgia,
MyPainAway Fibro cream works to help the body rid itself of excess toxins and fluids at the pain site, taking pressure off the capillaries so oxygen and nutrients can flow back into the cells. The balancing of getting unwanted fluids out of the pain site and restoring oxygen and nutrient availability provides energy to the affected cells, which is vital for optimizing the body's healing process.
MyPainAway Fibro Cream supports the body's desire to heal and repair the cells that are causing the pain, and is effective when massaged in and around fibromyalgia "tender points." The benefits include:
--May help reduce the need for oral pain pills
--Known to reduce the duration and intensity of fibro episodes
--Improves restful sleep patterns vital for restoring energy levels
--Improves overall quality of life
Formulated with a combination of natural biomedicines, MyPainAway Fibro Cream does not contain parabens, petroleum, or other harsh chemicals, and is free of counter irritants such as camphor, capsaicin, and menthol. And unlike chemical-based over-the-counter and prescription pain pills, MyPainAway Fibro Cream has no known side effects and will not interfere with any other medications. The odorless, greaseless formula absorbs quickly, and is ideal for diabetics and the entire family.
MyPainAway Fibro Cream is dedicated to restoring hope and quality of life to people suffering with fibromyalgia, with 3% of the sales are donated to fibromyalgia research foundations. Available exclusively at CVS in the analgesics aisle and http://www.cvs.com .
Visit http://www.mypainawayfibrocream.com for more information and to download a money-saving coupon.
Connect on Facebook: https://www.facebook.com/mypainawaycream
Follow on Twitter: https://twitter.com/mypainaway
Connect on Instagram: http://instagram.com/mypainaway/
Connect on Pinterest: https://www.pinterest.com/mypainawaycream/
.