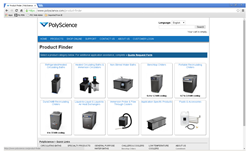 Niles, IL (PRWEB) December 11, 2014
Secure, easy-to-use product selection and online shopping for PolyScience liquid temperature control products is now available on the company's website (http://www.polyscience.com). Added in conjunction with the site's recent redesign, the Product Finder/Shop Online feature enables scientists, researchers, and others to quickly select and purchase the right liquid temperature control solution for their needs. Accessed by clicking on either the Shop Online or Selecting a Product tab on the PolyScience home page, this interactive tool provides quick access to complete product information and U.S. pricing on the company's circulating baths, general purpose water baths, portable chillers, low temperature coolers, and specialty products.
Product selection and purchasing with Product Finder/Shop Online is fast, simple, and convenient. Users select from any of ten product categories (such as refrigerated/heated circulating baths, non-stirred water baths, etc.) and then filter the results from that category using one or more criteria (minimum or maximum temperature, cooling capacity, controller type, etc.). Selecting a narrowed result displays performance specifications, key product features, and other technical information as well as the accessories available for that product. The product may also be added directly to the shopping cart from that page.
PolyScience Shop Online is currently available for purchases originating from and shipping to the United States. Payments can be made using Visa, MasterCard, and American Express. For more information, visit http://www.polyscience.com, email sales(at)polyscience(dot)com, or contact the company by phone at 1-800-229-7569 or 1-847-647-0611 or fax 1-847-647-1155.