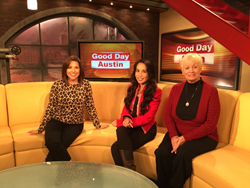 The time to look younger without surgery is now!
Austin, TX (PRWEB) December 10, 2014
Appearing on "Good Day Austin" on Dec. 11 with Dr. Tess Mauricio is a recent Time Machine Procedure℠ patient, KayDean. She is a vibrant woman in her 70s who recently completed the procedure. "KayDean's before and after photos show how anyone can 'put on a younger face' and look their best," says Dr. Tess.  
 
KayDean reveals her new look and describes her Time Machine Procedure℠ experience. "Before the Time Machine Procedure℠ I avoided looking in the mirror," KayDean shares. "After the procedure, I stop at every mirror and smile at how much younger I look. I feel 39 on the inside!"
 
The innovative new procedure created by Dr. Tess is an extraordinary approach to non-surgical skin treatment that could only be developed by a dermatologist with her extensive experience in skin rejuvenation and anti-aging treatments. Now offered by a growing number of practitioners across the country who have been personally trained and certified by Dr. Tess, the Time Machine Procedure℠ is changing the future for facial skin care.
 
"Now we consider a person's overall skin condition, noting the amount of sun damage, fine lines, wrinkles and any sagging that may be present," says Dr. Tess. These factors, as well as the patient's age and skin color are used to create a customized skin-treatment process that is a fusion of leading-edge technologies, methodologies and biologics used to create a younger-looking, healthier yet natural look.
 
"We want to achieve more for our patients than just erasing a few frown lines or brown spots," says Dr. Tess. "We want to turn back time!" The Time Machine Procedure℠ is designed to bring the maximum possible improvement in skin condition and appearance short of having cosmetic surgery. "This breakthrough skin treatment process can 'erase' years of aging and sun damage without going under the knife."
 
Time Machine Procedure℠ practitioners across the country are seeing strong interest from patients as they learn about the advantages of a total skin care treatment that can address all their concerns and needs in a single coordinated process. "We're spreading the word," says Dr. Tess. "The time to look younger without surgery is now." 
 
To locate a Time Machine Procedure℠ practitioner visit TimeMachineProcedure.com
About Dr. Tess Mauricio
Dr. Tess Mauricio is a Board Certified Dermatologist, graduate of Stanford University School of Medicine, and a Summa Cum Laude graduate of The University of California San Diego. She is the founder of M Beauty by Dr. Tess with multiple clinics in California, and is the youngest woman to hold the position of President of The San Diego Society for Dermatologic Surgery. She is a published author with a book called "California Total Beauty," renowned speaker, sought after media personality, and has educated thousands across the globe on technologies she has helped pioneer, including the Time Machine Procedure℠. Dr. Tess makes frequent media appearances and has appeared on the Dr Oz Show, The Doctors, The Rachael Ray Show, The Talk, Fox News and many others.
 
About Eclipse Aesthetics:
Eclipse Aesthetics is the largest and most successful privately held cosmetic distributor of aesthetic equipment and cosmetic supplies in the United States. The targeted customers for Eclipse are dermatologists and plastic surgeons. Eclipse Aesthetics has partnered with renowned dermatologist Dr. Tess Mauricio to train and certify dermatologists across the United States and around the world in the revolutionary Time Machine Procedure℠, an extraordinary combination of state-of-the-art technologies that take on age-related issues including aged skin, sun damage, wrinkles, sagging and loss of volume. This customizable process helps patients appear like they have traveled back in time, emerging how they looked 5 to 10 years earlier after only a few sessions.