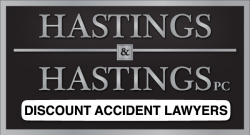 (PRWEB) December 10, 2014
Hastings and Hastings, a discount accident lawyer who has served Phoenix Arizona and the surrounding communities for over 30 years reports record demand with regard to hospital visits for clients that are unable to travel. Statistics across the country and throughout the state of Arizona indicate that there has been a steady rise in vehicular accidents, workplace accidents and accidents in the home. As such, a growing number of injury and accident victims are finding it impossible to travel to an attorney's office for consultation. Hastings and Hastings understands the predicament of these clients and as such makes provisions for clients to receive a consultation by a licensed attorney at the hospital or in their homes.
From trucking accidents to bicycle accidents and pedestrian accidents as well as motorcycle accidents and slip and fall accidents, Hastings and Hastings is always standing by and ready to assist. Hastings and Hastings is a law firm with a proven track record that has been actively involved in the Arizona community for three decades. Injury victims that experience fractures, spinal cord injuries, brain injuries, road rash and a host of other serious injuries as well as wrongful death routinely turn to the professionalism and focus of Hastings and Hastings. The firm has 11 offices in the greater Phoenix metropolitan area that makes it easy and convenient for injury victims to seek out legal representation.
Hastings and Hastings provides clients with discount attorneys fees that are recognized throughout the community as cutting edge. An aggressive discount attorney fee structure is intended to provide clients with the ability to retain a greater portion of a recovery. Whether a recovery is achieved through negotiations or through a full trial, clients can expect to retain a greater portion of that recovery when working with the professionals of Hastings and Hastings. The firm understands the importance of earning a reputation one client at a time and knows that a reputation is never simply given.
Discount fees equate to more money for clients. With free consultations and a friendly team of professionals always standing by and ready to assist, more accident injury victims than ever before are relying upon the professionalism and dignified legal representation of Hastings and Hastings. The firm is known for leadership, advocacy, integrity and compassion. Those who have been injured because of the errors, mistakes or negligence of another individual, company or organization depend upon the knowledge and skill of this focused personal injury law firm. This recent announcement with regard to record demand as it relates to hospital visits for clients that are unable to travel is further clear indication that Hastings and Hastings stands behind its promises of being a firm that is dedicated to client satisfaction.
Hastings and Hastings is a leading provider of discount personal injury legal services located in and serving the greater Phoenix Metropolitan area. This respected legal firm specializes in assisting individuals that have been the victim of serious injuries that have resulted from accidents that were not fault of their own. Hastings and Hastings is a trusted group of attorneys that deliver personalized service and guidance for injury victims throughout Phoenix and all across the state of Arizona. Hastings and Hastings is known throughout legal circles as a dedicated team of professionals and a law firm that has been representing accident victims throughout Arizona for decades. Hastings and Hastings has consistently exceeds client's expectations with regard to representing a wide array of accident related injury victims at times when it matters the most and always doing so with discount attorney's Fees.