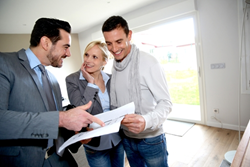 wages in November increased 9 cents, and over the past 12 months wages have risen 2.1 percent.
Chicago, IL (PRWEB) December 09, 2014
The housing market received good news from the U.S. Department of Labor on Dec. 5. The DOL released its employment situation report showing the nation increased its workforce by 321,000 positions in November - the economy's strongest month in almost two years, The Atlantic reported.
The Federal Savings Bank, a Midwest based lender finds this news important as the increased number of individuals employed supports the expectation that the housing market will finish strong in 2014. By increasing jobs in November, the U.S. workforce has added positions every month for more than 50 consecutive months, which is an all-time record, according to The Atlantic.
As people gain employment and wages slowly increase, more potential buyers will be able to save up a down payment and begin looking for their dream homes. An unsteady job market won't hold anyone back from homeownership any longer.
Widespread growth
A variety of industries gained new positions, such as in manufacturing, healthcare, retail and business sectors, as well as in many areas across the U.S., meaning it is not just one profession or region more likely to improve its homeownership rates. The professional services area gained 86,000 workers last month, which is an improvement over its monthly average rise of 57,000 positions in the past 12 months. Retail numbers showed a similar trend of growing more than the monthly average. The retail industry gained 50,000 workers in November compared to its monthly average increase of 22,000 over the past 12 months.
Additionally, wages in November increased 9 cents, and over the past 12 months wages have risen 2.1 percent.
Older homeowners holding housing market steady
Purchasing homes has been difficult for many in recent years, particularly millennials who are struggling with student loans and high rent prices. That's why right now, older homeowners are helping maintain the strength of the current market, Bloomberg reported on December 8. Homeownership rates have fallen in all age groups except for those over the age of 65, where the ownership rate remains around 80 percent.
"This group has been a ballast for the market," Chris Herbert, acting managing director at the Joint Center for Housing Studies at Harvard University, said, according to Bloomberg. "If not for them, we would have seen a much lower homeownership rate overall, more homes on the market and more weakness."
The main concern about the age of many homeowners is what happens when they're ready to sell. Without enough first-time and younger home buyers, senior homeowners may have houses sit on the market longer than they'd like. However, this future may never come to pass if the workforce continues to improve and more potential buyers enter the market.
Right now, the number of first-time home buyers accounts for only 33 percent of home purchases, the lowest rate since the 1980s. The Federal Savings Bank thinks the DOL's employment numbers support the optimistic view that more first-time home buyers will participate in the market in 2015 which is great news for the entire housing industry. As potential buyers' employment situation becomes steadier and they receive raises and bonuses, homeownership becomes less of a dream and more of a reality.
First-time home buyers interested in obtaining a mortgage should contact The Federal Savings Bank, a veteran owned bank, to learn about low interest rates.