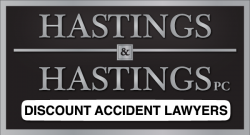 Phoenix, AZ (PRWEB) December 11, 2014
Hastings and Hastings, a discount accident attorney with 30 years in the industry announces record demand for legal representation for accident injuries caused by participation in various water sports related activities. From boating accidents to jet-ski accidents and swimming accidents as well as drowning cases, Hastings and Hastings has helped countless injury victims recover losses. The firm has more than three decades of experience in helping those who have been injured through no fault of their own recover losses. Most importantly, the firm focuses on offering discounted attorney's fees without discounting legal services. This provides clients with added peace of mind in knowing that they are receiving focused legal representation while enjoying discounted fees.
In short, discounted attorneys fees mean more money for clients. Another important aspect of the Hastings and Hastings difference is that the firm handles each and every personal injury claim on a contingency fee basis. This is important because it means that clients will pay no fees if there is no recovery. Those who have been injured in an accident and that are unable to work or that have extensive medical bills can rest assured that no additional financial burden will be cast upon them unexpectedly. Knowing in advance what to expect helps clients to move forward confidently in recovering losses because of an accident that was someone else's fault.
Hastings and Hastings is a trusted and respected law group in Phoenix Arizona that has over 10 offices throughout the region with multiple attorneys who are always standing by and ready to assist those who have been injured because of the negligence or errors of another individual. From injuries that are the result of motorcycle accidents to injuries that result from vehicular accidents and injuries that are the result of pedestrian type accidents, Hastings and Hastings helps clients recover losses while saving them money on their recovery.
Because the general consensus is that a reputation is earned and never given, Hastings and Hastings strives to earn its reputation one client at a time by providing focused legal representation with discounted attorney's fees. Saving clients money while providing them with dignified and professional legal representation is what the firm has been doing for well over 30 years. Personalized care and attention to detail when it comes to injuries resulting from a wide array of accidents can make a big difference for clients. This recent announcement with regard to record demand for legal representation for injuries caused by participation in various water sports related activities is a key indicator that Hastings and Hastings has a proven reputation among peers and throughout the community.
Hastings and Hastings is a leading provider of discount personal injury legal services located in and serving the greater Phoenix Metropolitan area. This respected legal firm specializes in assisting individuals that have been the victim of serious injuries that have resulted from accidents that were not fault of their own. Hastings and Hastings is a trusted group of attorneys that deliver personalized service and guidance for injury victims throughout Phoenix and all across the state of Arizona. Hastings and Hastings is known throughout legal circles as a dedicated team of professionals and a law firm that has been representing accident victims throughout Arizona for decades. Hastings and Hastings has consistently exceeds client's expectations with regard to representing a wide array of accident related injury victims at times when it matters the most and always doing so with discount attorney's Fees.