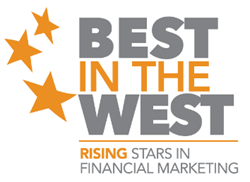 This award truly represents the remarkable and forward-thinking marketing team at Convergent Wealth Advisors.
Los Angeles, CA (PRWEB) December 10, 2014
William Sileo, head of marketing for prominent wealth management firm Convergent Wealth Advisors, was acknowledged by The Gramercy Institute with their Best in the West: Rising Stars Financial Marketing 2014-2015 Award. The knowledge forum and award ceremony were held on December 4, 2014 at the Mark Hopkins InterContinental Hotel in San Francisco. As part of the forum, Mr. Sileo joined a panel of marketing experts to discuss the topic Brand Matters: Evaluating the Role & Importance of The Financial Brand.
"I am honored to have received this accolade from the Gramercy Institute and to have been a panel speaker on the importance of brand. This award truly represents the remarkable and forward-thinking marketing team at Convergent Wealth Advisors," says Mr. Sileo. He adds: "With the marketing landscape changing rapidly, marketers constantly need to evaluate their efforts and progress towards the ultimate goal of driving client and prospect engagement." Mr. Sileo has been with Convergent Wealth Advisors and its division Independence by Convergent™ for nearly three years, and has over 20 years of industry experience.
"I believe marketing serves as a real differentiator in the wealth management space, and it plays a major role in the business strategy at Convergent," comments Charles Winn, Managing Director. "Our efforts are streamlined, focused, and nimble. With targeted and measurable marketing objectives in place, we foresee a very positive year ahead." He continues: "The Gramercy Institute nominates and awards individuals who strive to shape and drive thought leadership in the financial services marketing universe. Our marketing success also supports our goal of attracting leading advisors who are seeking a better and stronger story than where they are at today. My congratulations to William and to the Gramercy Institute for their thought leadership efforts."
About Convergent Wealth Advisors
Convergent Wealth Advisors is a recognized industry leader in wealth management, managing $8.6 billion in assets (as of September 30, 2014). Convergent provides investment consulting services and customized wealth management solutions to ultra-high net worth individuals and family offices with investable assets of $10 million and more. Independence by Convergent™ is a division of Convergent focused on servicing clients with $1 million and more in investable assets.
City National Bank is backed by $32 billion in total assets (as of September 30, 2014), and provides banking, investment and trust services through 77 offices, including 16 full-service regional centers in Southern California, the San Francisco Bay Area, Nevada, New York City, Nashville, and Atlanta. The company and its investment affiliates manage or administer $61.2 billion in client investment assets as of September 30, 2014. City National is the 25th largest American commercial bank by asset size.
Convergent has offices in Washington, DC, Los Angeles, New York, and Portland, OR.
Media Contact: Douglas Wolford | 301.284.1112 | Doug.Wolford(at)ConvergentWealth(dot)com
Award Recipient Selection Criteria: Gramercy Institute's "Rising Stars/Best in the West" in Financial Marketing"
All award recipients must be nominated by the Gramercy Institute's official nomination form by industry peer(s) and submitted to Gramercy Institute for consideration. From this initial list of nominees, a rigorous examination of all nominees is carried out by the Gramercy Institute. A final roster is selected by the Gramercy Institute based upon:
1) Award recipients' professional body of work will be focused (predominantly) in financial services marketing.
2) Award recipients will hold the professional respect of industry peers, as supported by submitted nomination(s).
3) Award recipients' leadership potential will be supported by accomplishment and service in their past and current positions.
4) Award recipients will possess the ability to clearly express their own industry opinions as well as their vision of the future of the financial services marketing industry.
5) Award recipients will possess a willing (and inspiring) voice - eager to be heard.
6) The "Rising Stars/Best in the West" delegation will represent a diverse cross-section of today's financial and marketing brands.
Non-deposit investment products are not FDIC insured, are not deposits or other obligations of City National Bank, are not guaranteed by City National Bank and involve investment risks, including the possible loss of principal.
Convergent is a majority-owned subsidiary of Convergent Capital Management, which is a subsidiary of City National Corporation (NYSE:CYN), the parent company of City National Bank.