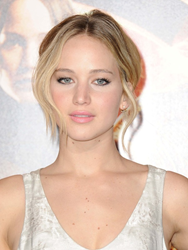 Jennifer Lawrence has been named the Most Beautiful Blonde for 2014 by LABlondes.com
LOS ANGELES, CA (PRWEB) December 10, 2014
Jennifer Lawrence, star of the Hunger Games movies and Academy Award winner, has been named the Most Beautiful Blonde for 2014 by LABlondes.com
Jennifer is starring as Katniss Everdeen in the current movie Hunger Games: Mockingjay -- Part 1, the third film in the highly successful movie franchise. At just 24 years of age, Jennifer is one of the youngest women to ever win an Academy Award for Best Actress in the 2012 movie Silver Linings Playbook. She has also received Academy Award nominations for performances in the movies Winter's Bone and American Hustle.
Jennifer is No. 1 in the first-ever ranking of the 101 Most Beautiful Blondes in LA. The list includes actresses, TV personalities, models, singers, athletes and Internet stars who live in Southern California.
At No. 2 is Charlize Theron, followed by Reese Witherspoon, Paris Hilton and Erin Andrews of Fox Sports.
You can see the complete list of The 101 Most Beautiful Blondes in LA with photos at http://lablondes.com/top101.html
1. Jennifer Lawrence
2. Charlize Theron
3. Reese Witherspoon
4. Paris Hilton
5. Erin Andrews
6. Kate Hudson
7. Julianne Hough
8. Yvonne Strahovski
9. Cameron Diaz
10. Heidi Klum
11. Miley Cyrus
12. Gwyneth Paltrow
13. Tricia Helfer
14. Britney Spears
15. Maggie Grace
16. Amber Heard
17. Kaley Cuoco
18. AnnaLynne McCord
19. Beth Behrs
20. Hunter King
21. Lauren Conrad
22. Cassandra Kunze
23. Kristanna Loken
24. Dianna Agron
25. Malin Akerman
26. Samantha Hoopes
27. Rachel Reynolds
28. AJ Cook
29. Kennedy Summers
30. Ashley Tisdale
31. Colbie Caillat
32. Emily VanCamp
33. Laura Vandervoort
34. Kate Bosworth
35. Paulina Gretzky
36. Whitney Port
37. Genevieve Morton
38. Sabina Gadecki
39. Peta Murgatroyd
40. Brittany Snow
41. Ashley Benson
42. Jessica Simpson
43. Leven Rambin
44. LeAnn Rimes
45. Diane Kruger
46. Anna Paquin
47. Ronda Rousey
48. Rebecca Romijn
49. Crystal Egger
50. Olivia Jordan
51. Anna Faris
52. AJ Michalka
53. Christina Aguilera
54. Katherine Heigl
55. Amanda Seyfried
56. Molly Sims
57. Greer Grammer
58. Nikki Leigh
59. Elizabeth Banks
60. Dylan Penn
61. Heather Graham
62. Ali Larter
63. Jaime King
64. Melissa Ordway
65. Kirsten Dunst
66. Amy Smart
67. Kristen Bell
68. Nancy O'Dell
69. Emily Wickersham
70. Sara Paxton
71. Morgan Stewart
72. Jenn Brown
73. Fiona Gubelmann
74. Sage Erickson
75. Ireland Baldwin
76. Julie Bowen
77. Courtney Friel
78. Cody Horn
79. Gwen Stefani
80. Charissa Thompson
81. Courtney Stodden
82. Paula Labaredas
83. Chelsea Kane
84. Andrea Bogart
85. Jenna Marbles
86. Dustin Quick
87. Abigail Klein
88. Iliza Schlesinger
89. Christina Applegate
90. Sophie Elkus
91. Justine Ezarik
92. Chelsea Handler
93. Kate Miner
94. Sasha Pieterse
95. Ellen Hollman
96. Georgia King
97. Abbie Cornish
98. Jessy Schram
99. Alison Sweeney
100. Francesca Eastwood
101. Margaret Judson
ABOUT LABlondes.com
LABlondes.com features photos of beautiful celebrities and models living in Southern California. Visit the site at http://www.lablondes.com