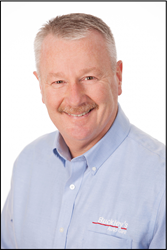 "Greg is a pioneer who is always on the hunt for new tools to improve operations and increase sales," said Todd Westerlund, CEO of Kukui Corp.
San Jose, CA (PRWEB) December 11, 2014
Greg Buckley, a more than 40-year veteran of the automotive repair industry, will keynote the 2015 Think Kukui Trade Show, presented by Kukui Corp. Buckley is owner of Buckley's Auto Care in Wilmington, Delaware and also helped develop the Virtual Service Advisor program, which helps automate the service writing process. An advocate of using technology to grow business, Buckley will discuss technology trends that will impact repair shops in the future.
"Greg is a pioneer who is always on the hunt for new tools to improve operations and increase sales. He has tremendous foresight and is well acquainted with the challenges shop owners face daily," said Todd Westerlund, CEO of Kukui Corp.
The Think Kukui Trade Show will be held January 16-17, 2015 at the San Jose Airport Doubletree by Hilton Hotel San Jose and will feature a wide spectrum of exhibitors as well as educational seminars presented by the industry's leading management coaches. The event also offers the opportunity to network with fellow shop owners and learn more about new services and products from a range of exhibitors.
Kukui, a developer of marketing software solutions for the automotive repair industry, will also showcase its revolutionary Success Platform and give its clients the chance to connect one-on-one with their individual marketing directors to discuss marketing challenges.
Buckley, who will share his insight with attendees at 3 p.m. on Saturday, January 17th, grew up in the automotive repair business and remembers waiting on his first customer at the age of eight and mastering an oil change by 10. He serves on the NAPA AutoCare National Advisory Council and is also a trainer for the Automotive Training Institute.
In addition to Buckley, this year's speakers also include: Cecil Bullard, owner of the Institute for Automotive Business Excellence; Matt Winslow, Director of Speakers and Content for the Automotive Training Institute; Maylan Newton, CEO of Educational Seminars Institute and Bill Haas, an automotive coach with the Institute; and Dave Schedin, founder of CompuTrek Automotive Consulting and Jude Larson, a partner and trainer with the company.
The trade show will also include the annual Kukui Industry Awards, which recognize repair shops in 13 categories. Awards include: Superior Customer Service, Hybrid Shop of the Year, Female Shop Owner of the Year, Coach of the Year, Humanitarian of the Year and Shop of the Year.
To RSVP for this unique event, contact Christina Solorzano, Kukui's Director of Marketing and Communications, 877-912-7448 or Christina(at)Kukui(dot)com
The deadline for registrations is January 5, 2015.
More information about the trade show an also be found at: http://www.kukuitradeshow.com
About Kukui
With a rich history in information technology, Kukui provides businesses with a custom website platform and software solution that integrates with each organization's Point of Sale (POS) system. This empowers each of Kukui's clients with quantitative data showing their monetary return on investment, the number of new clients based on their POS system, statistics revealing their customer retention rate, and areas to improve their business through the tracking of phone calls, appointment forms, and feedback from customer reviews.
For more information about Kukui, visit http://www.kukui.com